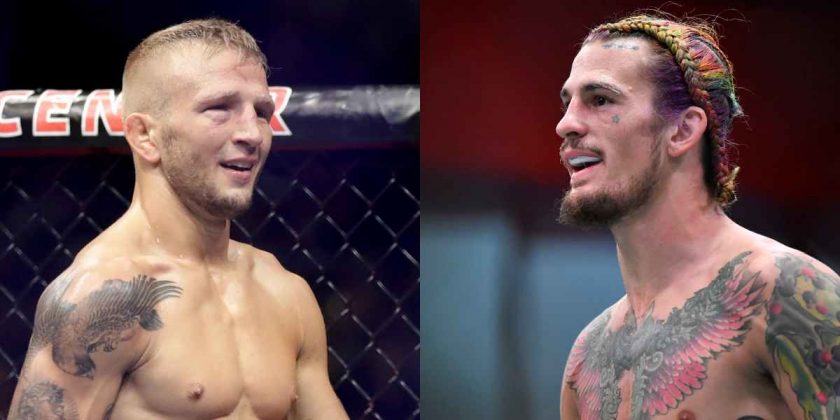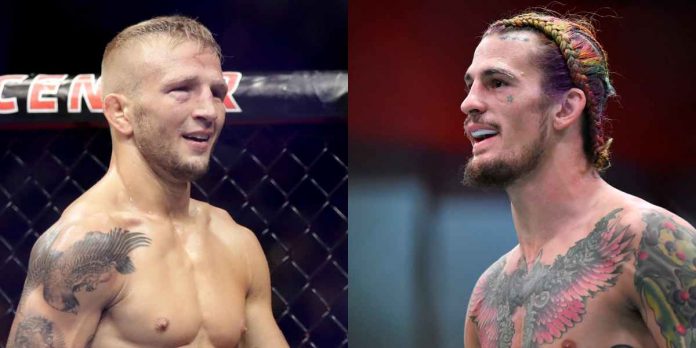 Former UFC bantamweight champion TJ Dillashaw believes rising star Sean O'Malley will never become a champion.
After spending two years on the sidelines due to a doping suspension, Dillashaw made a successful return to the Octagon at UFC Vegas 32 last month, beating Cory Sandhagen by a razor close split decision. 
Although Dillashaw is expected to spend some time away from fighting to recover from the knee injury he suffered in his return fight, he is keeping a close eye on potential future matchups.
Dillashaw's Thoughts On O'Malley
Speaking to Submission Radio (as transcribed by MMA Mania), Dillashaw gave his thoughts on O'Malley, saying that he believes 'Suga' will never become a UFC champion.
"I don't think he'll become champion, he's got too many holes," Dillashaw said. "And they're just feeding him the right fights cause he's a huge draw, right? For one, they pumped him up, they put him in the UFC pump-up machine. They can do that to pretty much anyone if you have a little bit of character, if you can talk whatsoever, be a little bit colourful, they'll pump you up. And he's done a good job promoting himself. He's done a really good job of that."
Dillashaw believes O'Malley is doing a great job of promoting himself, but he's yet to prove himself against a legitimate contender, because the last time he fought a ranked fighter in Marlon 'Chito' Vera at UFC 252, he lost in the very first round.
"When you see these guys that get pumped up, they're also putting in the hard work," Dillashaw said. "So, he does a good job of that. But we see what happened as soon as he fought Chito. Chito is more of a top-ranked fighter, and he got finished in the first round. I mean, I don't think that he will be champion, but he's a good draw. Hopefully he can make it far enough to where I could use some of that thunder and get paid off it."
O'Malley most recently fought and beat promotional newcomer Kris Moutinho by third round TKO at UFC 264.
Do you agree with TJ Dillashaw that Sean O'Malley will never become a UFC champion?
See also: