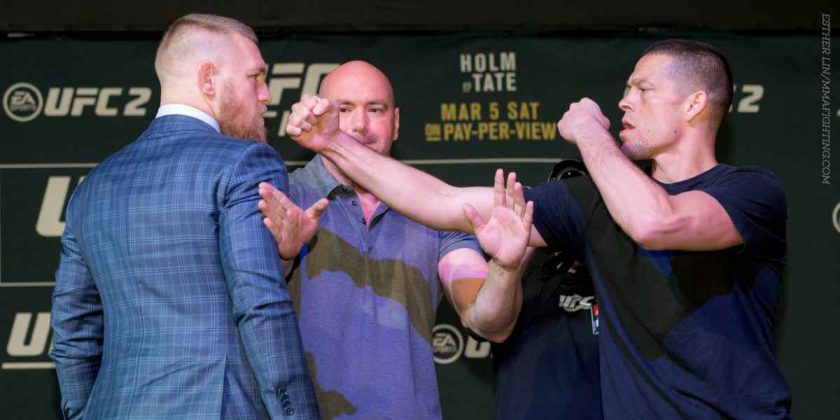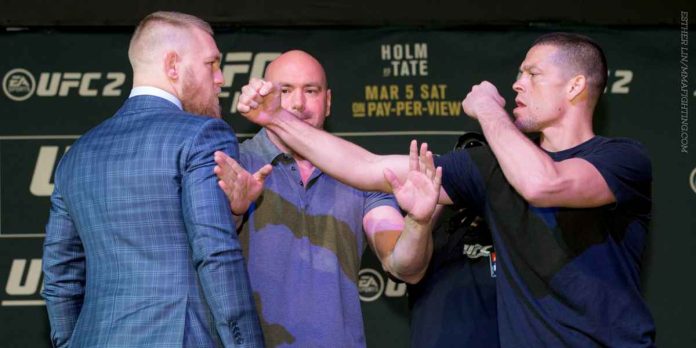 Nate Diaz has clapped back at Conor McGregor for saying that his boxing is piss in comparison to his brother, Nick Diaz.
After more than six years on the sidelines, Nick returned to the Octagon to rematch Robbie Lawler at UFC 266, where he quit early in the third round after two rounds of back and forth. Taking to Twitter after the fight, McGregor praised the elder Diaz brother but took a jab at the younger sibling, who 'The Notorious' has fought twice.
"Nate your boxing is piss compare to Nick's," McGregor wrote. "We been fed garbage with your sloppy shots the last few years. Can see the clear difference between the two brothers after last night. Balance, composure. Another level the big bro is on to you. I made you."
Diaz responded by reminding McGregor that his boxing was good enough to turn him into a wrestler when they first fought at UFC 196, where the Stockton native won by second round submission.
"My boxing's piss? I banked on your face, turned you into a wrestler, and then choked you bitch," Diaz wrote. "In reality, your whole country and belongings are mine. Plus I made that fight and you took the bait. Then I made [Jorge] Masvidals bitchass. Don't forget I make this whole shit spin."
Diaz last fought at UFC 263, where he lost to Leon Edwards by unanimous decision in the first non-title, non-main event, five-round fight in UFC history, while McGregor last fought at UFC 264, where he lost by a doctor's stoppage after breaking his tibia in his trilogy against Dustin Poirier.
Despite a great amount of interest shown from fans in a trilogy fight between the two, Diaz is thought to be angling for a fight against Vicente Luque, while McGregor wants to run it back with Poirier when he returns to the Octagon.
Nate Diaz or Conor McGregor, who do you think would win a potential third fight?
See also: