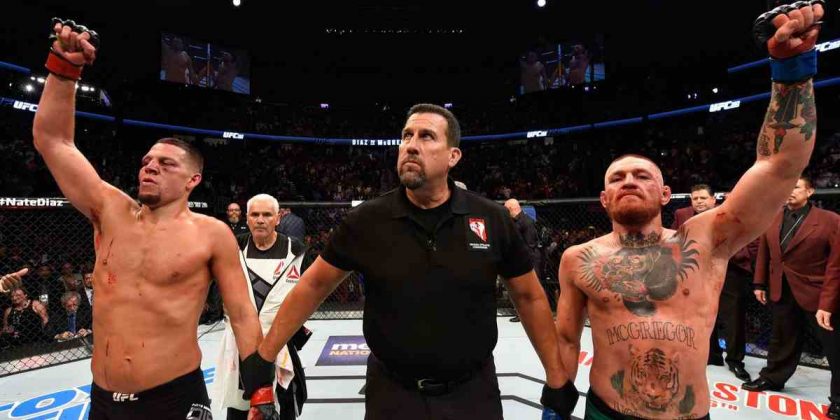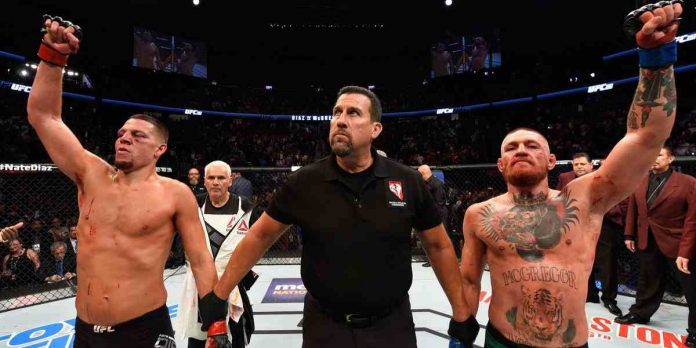 Conor McGregor and Nate Diaz are at it again on social media. The two of them have fought twice. In their first bout at UFC 196, the Stockton native shocked the world when he won by submission in the second round, before the Irishman exacted his revenge when he won by majority decision after a five-round war at UFC 202.
The two UFC superstars haven't forgotten their rivalry, and have been keeping it alive on social media. That's good news for the fans, who would love a third fight between McGregor and Diaz, especially now that it makes a lot of sense.
Responding to McGregor's tweet in which he outlined what Diaz needs to do to earn a rubber match with him, the American told his arch-rival to stay quiet as he can't fight right now because of the leg injury he suffered in his rubber match with Dustin Poirier at UFC 264.
McGregor was quick to fire back.
Diaz then went on to poke more fun at McGregor for his losses to Khabib Nurmagomedov and Poirier.
McGregor was having none of it again, as he claimed that he wasn't finished by either of the two men, despite losing to Khabib by fourth round submission, and Poirier by TKO at UFC 257, followed by a doctor's stoppage at UFC 264.
It's only business.
Not wanting to go back and forth anymore, McGregor wished Diaz a good day.
In a series of separate tweets, however, McGregor continued his jabs at Diaz.
McGregor also shared photos of his best moments against Dustin Poirier.
Like McGregor, Diaz is also on a two-fight losing streak. He lost to Jorge Masvidal in their BMF title fight by a doctor's stoppage at UFC 244, before losing to Leon Edwards by unanimous decision in the first non title, non main event five round fight in UFC history at UFC 263.
Poirier, who's also on McGregor and Diaz's radar, is more than likely to face Charles Oliveira for the UFC lightweight title fight next, as per his latest tweet.
Who do you think wins a potential rubber match between Conor McGregor and Nate Diaz?
See also: