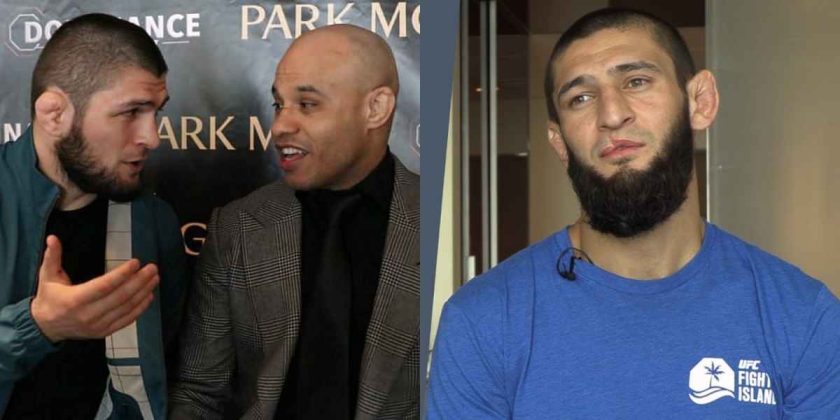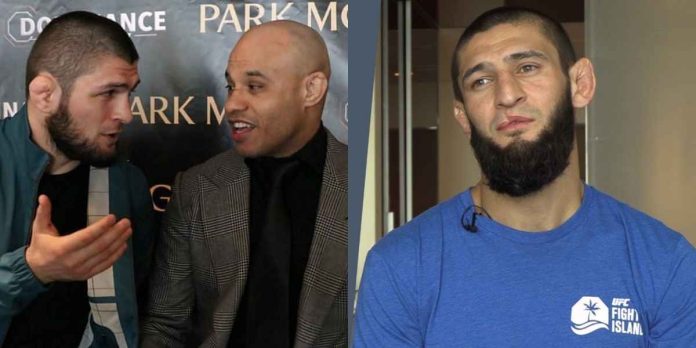 Ali Abdelaziz has revealed that Khamzat Chimaev and Khabib Nurmagomedov have buried the hatchet.
Chimaev came under fire in May for commenting "we will tear him (Khabib) apart too" during Chechnya leader Ramzan Kadryov's Instagram Live session. 'Borz' later explained the reason behind those comments, adding that he has the utmost respect for 'The Eagle'.
Khamzat's Apology
Speaking to TSN's Aaron Bronsteter (as transcribed by MMANews.com), Abdelaziz revealed that Chimaev also apologised to Khabib, and the two are on good terms now.
"We're all brothers," Abdelaziz said. "We're all Muslim brothers here. We all come from the same bloodline. And at the end of the day, Khamzat, he's young. He's new to the sport. He's a good kid, man. He's a good guy. I know Khamzat very well. And at the end of the day, at the time, a lot of people took an insult to it. And I understand where's Khabib's coming from and where everybody's coming from.
"And Khamzat, it took him three months to apologise about it. I respect him so much because fighters have so much ego, right? But I [knew] he was gonna do the right thing. Khabib is like an older brother to him. We all have this kind of ranking among us. And he came out, and he right the wrong, and what he gonna say about the guy? He put his ego to the side, and he apologised, and apology's accepted."
Chimaev made a blistering start to his UFC career last summer, winning three fights in a little over two months, with his most recent win coming against Gerald Meerschaert in only 17 seconds at UFC Vegas 11 last September. He hasn't fought since, due to COVID-related complications, but will make his comeback against Li Jingliang at UFC 267 later this month.
Do you think Khamzat Chimaev will continue his winning ways in the UFC?
See also: