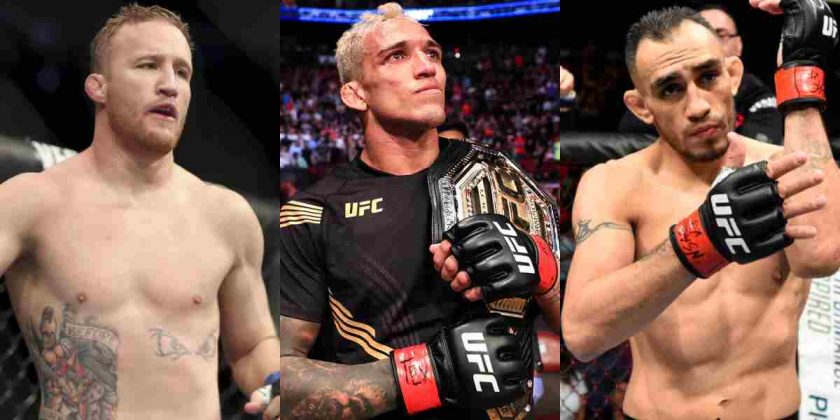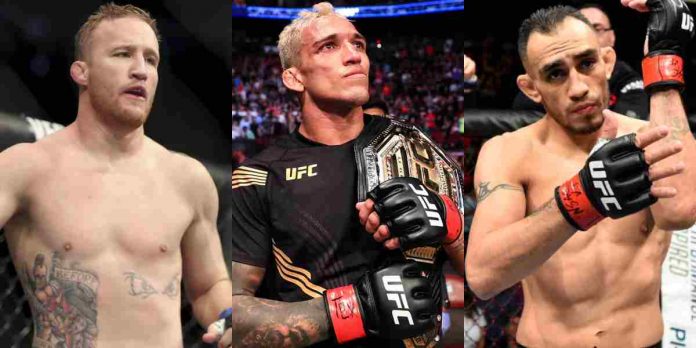 Justin Gaethje has said he's not buying into the Charles Oliveira hype, and claimed that he wrote the blueprint for the champion to beat Tony Ferguson, when he dominated him for four rounds before getting the finish in the fifth round at UFC 249.
Oliveira is currently riding a nine fight winning streak, with his most recent victory coming against Michael Chandler in their vacant lightweight title fight at UFC 262.
Ferguson has lost twice since losing to Gaethje, against Oliveira and Beneil Dariush. Both by unanimous decision at UFC 256 and UFC 262, respectively. 'El Cucuy' is popular for his unorthodox training methods and fighting style and his unmatched toughness, which he showcased in his last three fights.
'He'll Never Be Broken'
Speaking on the UFC Unfiltered podcast, Gaethje said that he's not impressed with Oliveira, and praised Ferguson for his toughness.
"I am not high on Oliveira yet, and I get a lot of stick for it," Gaethje said. "He fought eight in a row. But at the end of the day, Tony Ferguson was the best win on that streak by far. And it was after I put him through 24 minutes and 15 seconds of straight hell. And I didn't break him. He's not done. The dude's a special kind of dude, so he'll never be broken."
Gaethje also believes his win over Ferguson holds more weight than Oliveira's, because he provided the blueprint for beating the division's boogieman.
"There's a certain way to fight that man," Gaethje said. "I showed you how to do it, so that [Oliveira's) win isn't as great as it was and it wasn't as great as when I beat him, when he was on his twelve fight winning streak. After that, it's not as great."
Gaethje is coming off a second round submission loss to former lightweight champion Khabib Nurmagomedov at UFC 254 and is now scheduled to face Chandler at UFC 268. Oliveira is expected to defend his 155lbs crown against Dustin Poirier at UFC 269.
As for Ferguson, there's no news regarding his comeback fight, but he was most recently called out by Arman Tsarukyan, who finished Christos Giagos at UFC Vegas 37.
Do you agree with Justin Gaethje's thoughts on Charles Oliveira and Tony Ferguson?
See also: