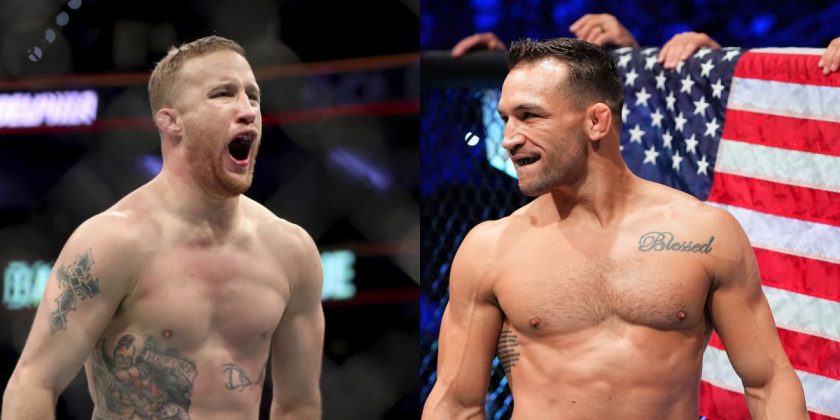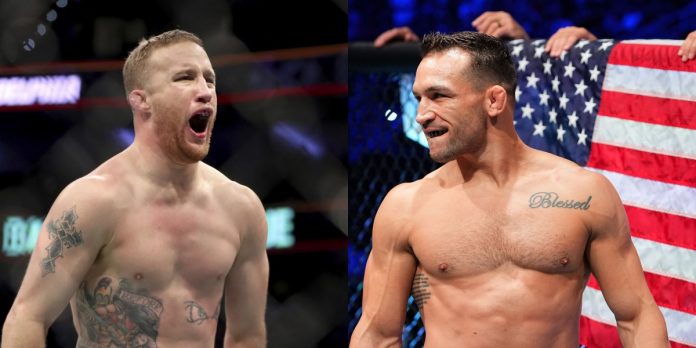 Former interim UFC lightweight champion Justin Gaethje has said that he will enjoy punching Michael Chandler in the face in their upcoming fight, because he doesn't like him.
Gaethje is set to face Chandler in a highly-anticipated top-five lightweight matchup at UFC 268 in November. The two were in talks for a showdown earlier this year, but 'Iron' Michael was instead offered a fight with Charles Oliveira for the vacant title at UFC 262, where he was finished in the second round.
'It'll Be Fun To Punch You In The Face'
Speaking on the UFC 265 weigh-in show, where Chandler served as a co-host (as transcribed by MMA Junkie), Gaethje said that he will enjoy hurting his arch-rival when they lock horns at UFC 268.
"I got nothing mean to say," Gaethje said. "We do mean things to each other one night a year. It's been a while since I fought someone I didn't like. For some reason, you're a little different. I think it was James Vick, the last guy I fought that I didn't like. It'll be fun to punch you in the face."
Gaethje's Reason For Not Liking Chandler
Interestingly, Gaethje said that he doesn't have a valid reason for his dislike towards Chandler, but there's something about the former three-time Bellator champion that rubs him up the wrong way.
"I'm excited to fight someone I don't like," Gaethje said. "It's been a while. I have no reason not to like you. Something about your face just makes me want to punch it."
Gaethje hasn't fought since his second-round submission loss to former lightweight kingpin, Khabib Nurmagomedov in their title unifier at UFC 254 last October.
Who do you think wins the UFC 268 lightweight bout between Justin Gaethje and Michael Chandler?
See also: