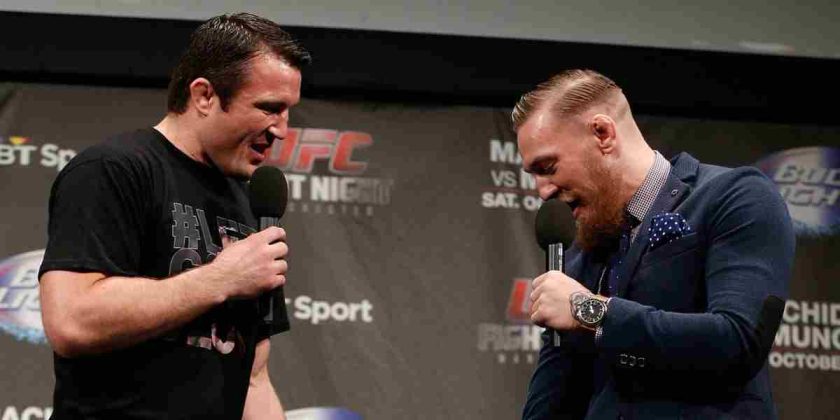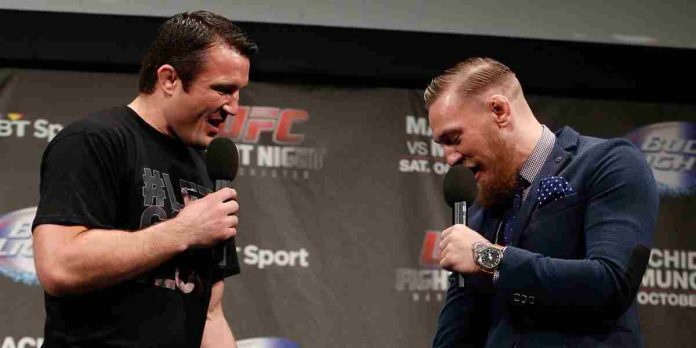 Conor McGregor has fired back at Chael Sonnen for saying that the Irishman is on the verge of becoming a 'little, rich weirdo'.
McGregor is currently recovering from a broken tibia he suffered in his trilogy with Dustin Poirier at UFC 264, and eyes a return next summer.
While on the sidelines, 'The Notorious' has been keeping himself busy by feuding with his peers online. Max Holloway, Kamaru Usman, Petr Yan, and Jorge Masvidal are some of the names McGregor has taken shots at recently.
Sonnen's Thoughts On McGregor
Speaking on his show on ESPN (as transcribed by MMA Fighting), Sonnen said that McGregor is on the verge of becoming a 'little, rich weirdo'.
"Conor is on the verge of being a little, rich weirdo," Sonnen said. "It's the last thing I wanted for him but if you mark out for your own gimmick to this extent, he's posting things and then he's deleting them. I've got to give the troll effort 100 percent. As a former troll myself, I get it. If there's a UFC that you didn't set foot at and you didn't throw a single punch and you can steal a headline on ESPN, you're doing something well, but in all fairness, Conor isn't gonna step in there with Max anymore than he was gonna step in there with the guy last week, the week before that, or whoever he pulls out of his hat next week. He's got to heal himself.
"There's already talk of Dustin Poirier, who has smashed him twice. In all fairness, Conor is still a big draw but he's really working against himself. He is being a weirdo. Is this what he wants as his identity? A guy walking around with his shirt off, screaming at his television set? Come on. When you're 22 years old that's one thing but as a husband and a father, you're a little bit of a dork."
McGregor Fires Back
Needless to say, McGregor was quick to fire back, calling Sonnen a 'little, broke weirdo'.
Sonnen responded by telling McGregor to stay away from alcohol and turn his phone off, but the former two-division champ didn't back down either.
Who do you think Conor McGregor should fight upon his return?
See also: