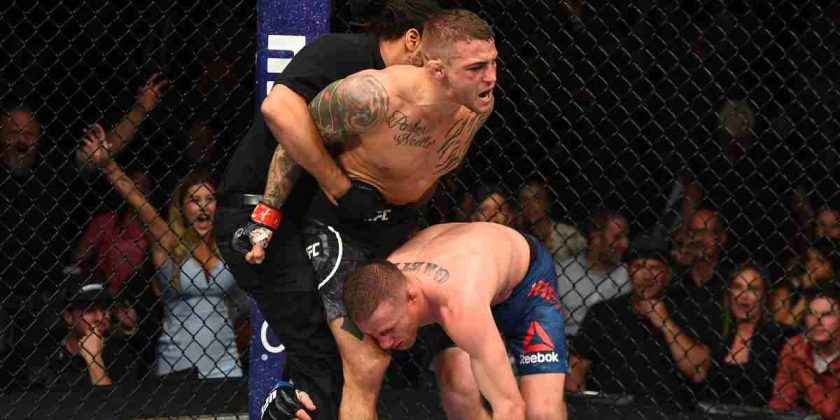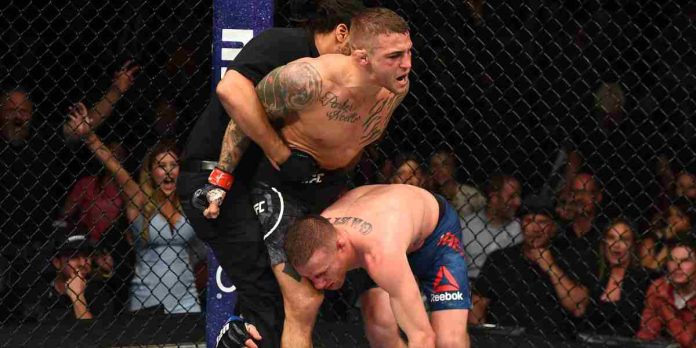 Dustin Poirier has fired back at Justin Gaethje after he said that 'The Diamond' could possibly retire if he wins the lightweight title at UFC 269 against Charles Oliveira because he isn't prepared to go to war with him again.
Poirier defeated Gaethje by fourth round knockout in their fight at UFC Glendale in 2018. 'The Highlight' is coming off a unanimous decision win against Michael Chandler at UFC 268 and believes that he deserves to fight for the title next.
In a recent interview, Gaethje said he thinks that if Poirier wins the title, he may prefer to retire instead of putting himself through another war with him.
Poirier On Gaethje's Comments
Speaking to MMA Fighting's The MMA Hour, Poirier said that Gaethje is trying to talk his way into a title shot.
"It's enticing, it makes people interested, it's a hook, he's hoping I bite onto it and beat Oliveira and, 'Ah, Gaethje, I've got to give it to him now because he's the one running his mouth,'" Poirier said. "That's the way this game is. People talk and try to set things up. Play the hands that they have, and that's what he's doing. Good on him. I'm a fan of him. I have nothing bad to say about the guy, but I beat him that night in his hometown. What else can I say?"
Poirier also refuted Gaethje's claims that he would retire if he wins the title.
"Nah, man – I'm a fighter," Poirier said. "I'm fortune enough now, with this year that I've had, I could walk away. It's a great position to be in, but these guys need ass-whoopings, and I'm the guy to give it to them. And we can't walk away like that."
The Next In Line
When asked who should be the next in line to fight for the belt, Poirier said that Gaethje and Islam Makhachev are the frontrunners, and they should fight one another in a title eliminator.
"I honestly don't think that far ahead into it, because I have my hands full," Poirier said. "But Gaethje, this is one fight since the title fight, so obviously he's still the number two ranked guy. Islam is on a huge streak. It's not my call. Maybe Islam needs to fight one more top contender, and then he's next. Maybe Gaethje should fight Islam, that way they settle it. That's the beautiful thing about fighting."
Will Dustin Poirier beat Charles Oliveira to win the lightweight title at UFC 269?
See also: