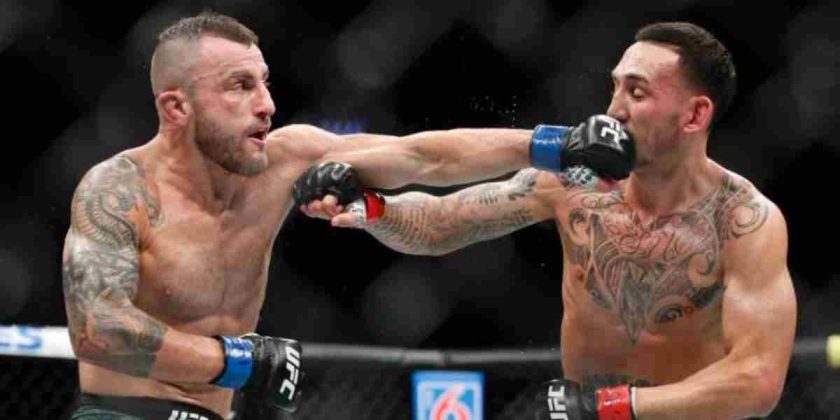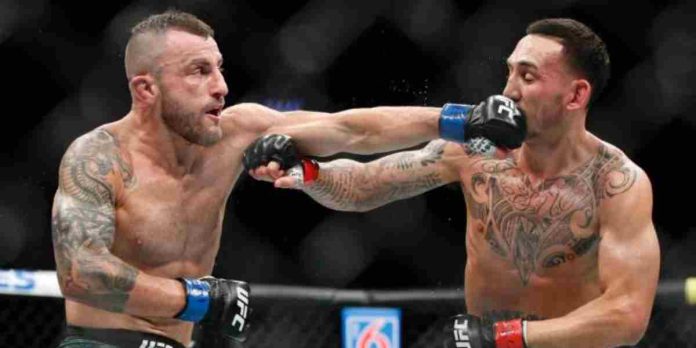 UFC featherweight champion Alex Volkanovski has warned Max Holloway that his chin will not last long if he keeps engaging himself in fire fights.
Holloway, who's coming off a hard fought unanimous decision win against Yair Rodriguez at UFC Vegas 42, has never been knocked down and has landed a record 3,000 significant strikes in his UFC career but he has absorbed quite a lot of punishment also, which worries his former two-time foe, Volkanovski.
Holloway's Durability
Speaking to MMA Fighting, Volkanovski said that Holloway's chin won't last long if he keeps taking damage.
"I'm telling you, that chin's going to go soon. It is going to go soon. You cannot cop that much damage," Volkanovski said. "Yeah, they're talking about 3000 strikes he's [landed], which is incredible. Clap for that. But he's probably in the 1000s or 2000s of absorption as well. There you go, that's not healthy. And Conor [McGregor] touched on that actually. Conor makes a good point. You talk about being a boxer — it's hit and not get hit.
"That's what makes the best boxer. So, you look at the numbers he's hitting a lot of numbers, but let's look at other numbers. Let's look at ratios. Let's look at how many strikes they're landing to not landing. It doesn't get more impressive than mine, I don't think. I think mine would be right up there. But again, you want to talk numbers, let's talk real numbers."
Holloway Trilogy
Volkanovski has beaten Holloway twice, at UFC 245 by unanimous decision and UFC 251 by split decision, and many believe a third fight between the two should happen next.
When asked about a potential trilogy, Volkanovski said that the UFC will try to make it happen, but is unsure of Holloway's plans.
"I don't know what he's pushing but I guarantee that's what the UFC is going to bring to me," Volkanovski said. "And yeah, we'll see what happens from there. But let's stop the bulls***. If you want it, come get it. If not, we move on."
Do you agree with Alex Volkanovski?
See also: