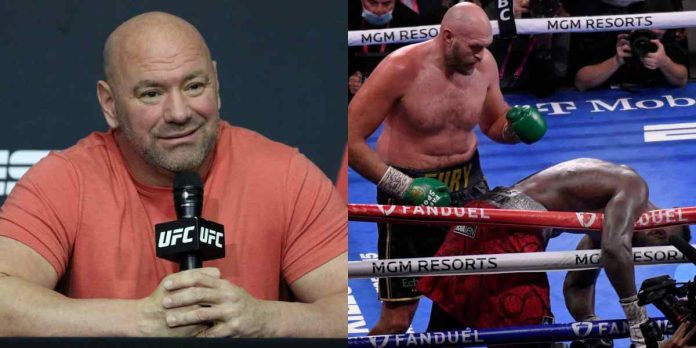 Dana White believes the brawl between heavyweight boxers Tyson Fury and Deontay Wilder this past weekend was exactly what boxing needed.
With their first fight ending in a draw and the second one ending with Fury winning by TKO, the Brit concluded the trilogy by knocking out Wilder in the eleventh round to retain his WBC heavyweight title in front of over 15,000 spectators at the T-Mobile Arena in Las Vegas. The fight featured five knockdowns and non-stop action as neither fighter left the ring unhurt.
The boxing spectacle lived up to the hype and both fighters were praised by the combat sports community. Former UFC two-division champion Conor McGregor praised Fury and Wilder for keeping the fans on the edge of their seats throughout the fight.
'Boxing Needed That'
Speaking to the media after Tuesday night's Contender Series (as transcribed by Boxing Scene), Dana lauded both Fury and Wilder for giving it their all inside the ring.
"I thought it was awesome," Dana said. "I think that the heavyweight fight that happened on Saturday… and let me just tell you this [first]. Going into it, my thought process was 'for what, why?' you know what I mean.
"[Anthony Joshua] just got beat, and yeah why do that? You know why? Because boxing needed that. Boxing needed that fight. It was an incredible heavyweight fight. I thought both guys fought their asses off. And for Fury to come in at 277-pounds and you know fight the way that he fought. Get knocked down, get back up and keep fighting. It was just, it was exactly what boxing needed. So, glad it happened and congratulations to both of them, everybody involved and the sport of boxing."
Do you agree with Dana White's thoughts on the Tyson Fury vs Deontay Wilder trilogy?
See also: