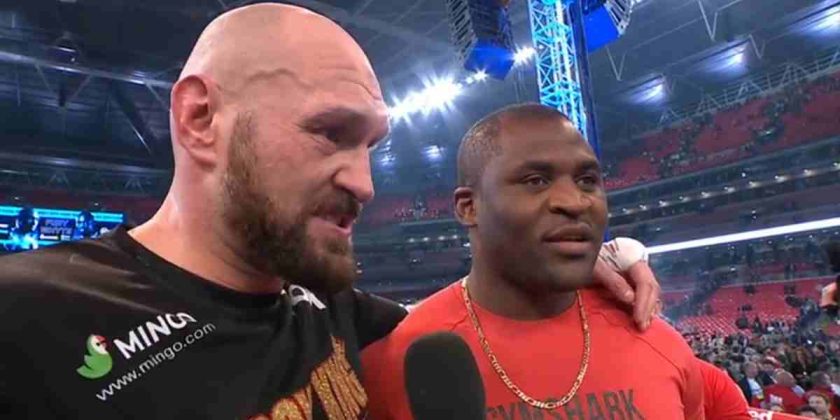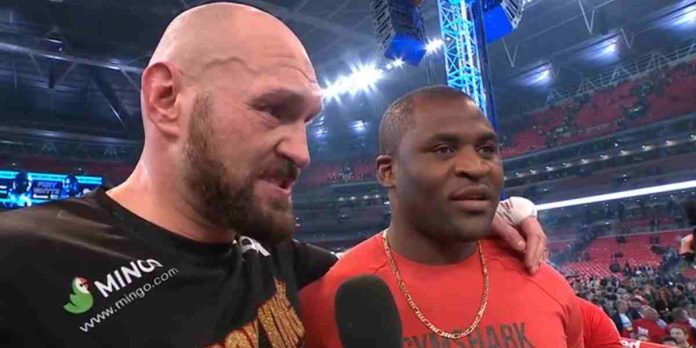 UFC heavyweight champion Francis Ngannou is not willing to compromise on a potential Tyson Fury boxing bout and wants it to be part of a new UFC deal.
Ngannou last fought at UFC 270, where he defended his title by beating Ciryl Gane by unanimous decision and is currently recovering after undergoing successful knee surgery. 'The Predator' has been involved in a tug of war with the UFC over a new contract as he believes his fight against the Frenchman was the final one on his current deal and he demands bigger paydays and the freedom to transition into boxing as part of his new contract.
Dana White believes a champion's clause could extend Ngannou's current deal to one year or three fights, and it seems as if the UFC president is also not willing to let the Cameroonian transition into boxing and fight Fury. The UFC champ made a surprise appearance in the ring after Tyson Fury's triumphant win over Dillian Whyte at Wembley Stadium this past weekend.
Francis Ngannou On New UFC Deal
In an interview with MMA Fighting's The MMA Hour, Ngannou said that he won't sign a new deal with the UFC unless the Fury fight is part of the discussion.
"The Tyson Fury fight has to be part of the discussion," Ngannou said. "That's not an option. It has to be part of the discussion, because if that's not part of the discussion now, it will never be. If I sign another contract now, and basically the same model of a contract, I'm screwed. It's not happening ever. So we have to figure out a way to implement this into a contract.
"I think the UFC is a great promotion and I want to keep fighting. Tyson Fury is not my last fight. I want to keep fighting after Tyson Fury. There's still a lot of fights out there. There's Jon Jones, there's a trilogy with Stipe [Miocic], there's big fight I can do in the UFC, so I would really like that to happen. I would really like also to get to a common point. Yes, I can do Tyson Fury on my own, but what next? I would like to keep fighting."
Would you like to see Francis Ngannou box Tyson Fury?
See also: