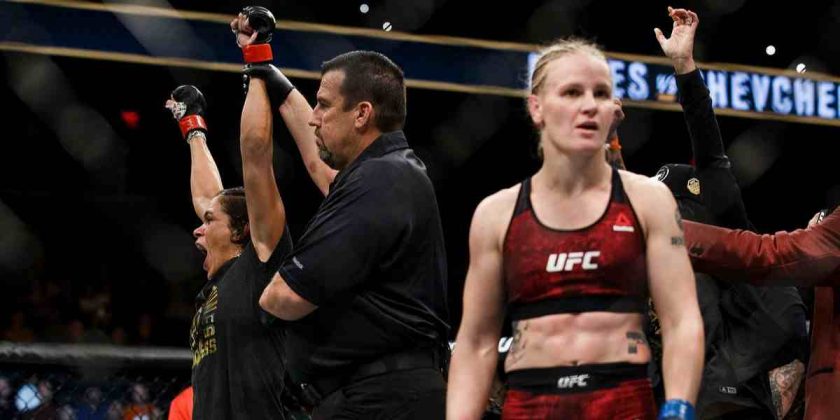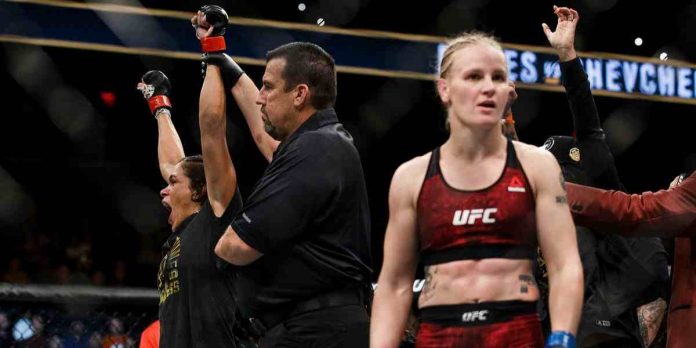 Valentina Shevchenko is gunning for a third fight against UFC two-division champion Amanda Nunes, but believes that her arch-rival doesn't want it.
Shevchenko has lost twice in her UFC career, with both losses coming at the hands of Nunes. In their first fight at UFC 196, which was a three round bout, 'The Lioness' beat 'Bullet' by unanimous decision.
Their rematch at UFC 215, which was for the bantamweight title, stirred controversy as there was an immediate uproar after the cards were read, and the Brazilian was declared the winner by split decision. Many, including Shevchenko herself, believe to this day that she won the fight.
Why Nunes Doesn't Want Trilogy
Speaking to MMA Fighting, Shevchenko explained why she believes Nunes doesn't want a third fight with her.
"I kind of feel that she's doesn't want too much this fight to happen," Shevchenko said. "Because inside of herself, she feels that she was gifted the victory from our second fight. Gifted by the judges. She feels that she was beaten by the smaller girl from the smaller weight class and she is a bigger girl. It's kind of like pressure on her from the inside.
"That's why she kind of like says 'I [beat] her twice,' whatever she's saying. But it's kind of like this camouflages what she's feeling for real and definitely, if you was beaten by someone smaller than you by two [weight classes], it would affect you. That's why I feel she's kind of like 'I don't want that fight happening.'"
Ready To Die In There
While Nunes isn't paying attention to talks of a third fight between the two superstars, Shevchenko is itching to avenge her twin losses.
"This is my goal. I know that when we will have fight next time, it's going to be I will be ready to do anything," Shevchenko said. "Time passed, I'm a different fighter, she is a different fighter than the last time that we fought. In my mind, in my mindset, I don't have any 'maybe if …. I will try' — no, my mind is like only there. Only forward. No matter. I have to die [in] there but I have to be in there."
Shevchenko successfully defended her title at UFC 266 this past weekend, when she finished Lauren Murphy in the fourth round. Nunes is scheduled to defend her bantamweight title against Julianna Pena at UFC 269 on December 11th.
Who do you think would win a potential third fight between Valentina Shevchenko and Amanda Nunes?
See also: