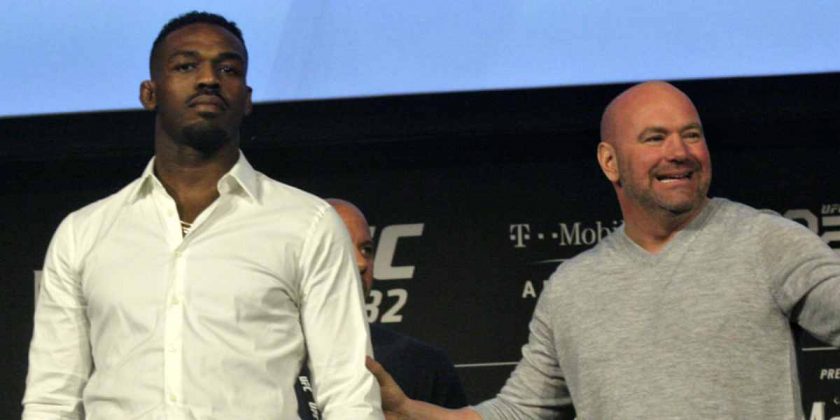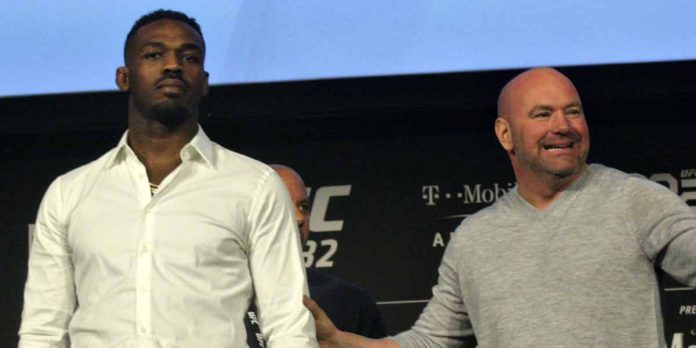 Jon Jones has promised that he will quit drinking and mend his ways after his latest arrest on charges of misdemeanor domestic violence and damaging or tampering with a vehicle.
Jones was arrested last Friday by the Las Vegas Metropolitan Police Department, hours after his first fight with Alexander Gustafsson was inducted into the UFC Hall of Fame.
According to the released details, police were called to the hotel room where Jones was staying with his family, when his fiancée, Jessie Moses, was seen with blood on her clothes and face. Moses told police that Jones touched the back of her head and pulled her hair but he did not hit her. However, police observed a bump with dried up blood on the lower part of her lip.
The former UFC light heavyweight champion, who had already left the hotel, was picked up by police. Jones got agitated upon his arrest and slammed his head into the police car, causing a visible dent, which accounts for the felony charge for damaging or tampering with a vehicle.
Jon Jones Breaks Silence
In an Instagram story, Jones promised to leave alcohol in the past, suggesting that he was drunk when he allegedly attacked his fiancée.
"I have way too much trauma to consume alcohol," Jones wrote. "My brain simply can't handle it anymore. I will leave alcohol in my past forever. Now is the time to work harder than ever. Turn this nightmare into the best thing to ever happen in my life. What the devil means for bad, God means for good. Get right back on my horse."
Dana White's Thoughts On The Issue
Following the Contender Series on Tuesday, Dana White briefly addressed the Jones situation while speaking to the media.
"We'll do what we always do," Dana said. "We're very consistent in that we watch and see how this thing plays out legally and what happens. Then we'll make a decision from there."
Dana also reiterated that Vegas is a "rough" place for Jones.
"This is what Jon does when he comes to Vegas. This is a rough place for him," Dana said. "He was here less than 12 hours, and he was in jail. Every time we bring him here, we try to keep him here for as short a time as possible. Get him in and get him out. This time he was with his family. We figured wrong."
Do you think Jon Jones will mend his ways?
See also: