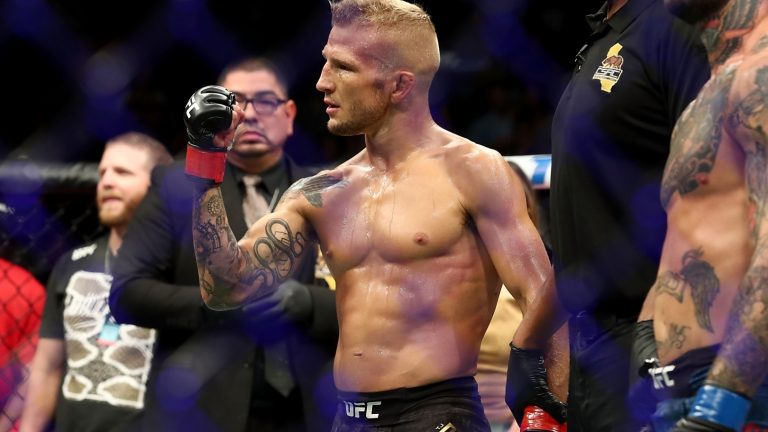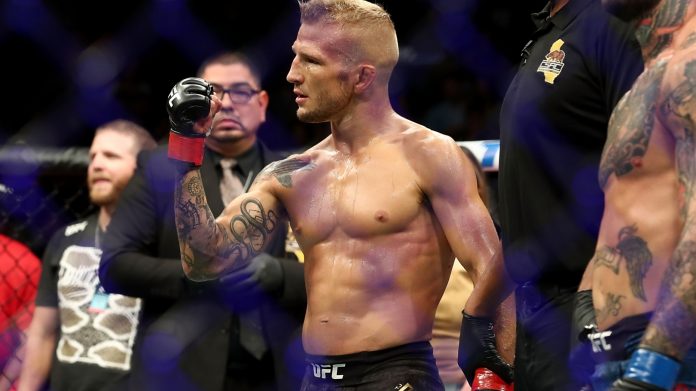 TJ Dillashaw has revealed that he wants to return against the winner of the title fight between Aljamain Sterling and Petr Yan, set to take place at UFC 273 in April, and isn't interested in fighting Jose Aldo for the time being.
TJ Dillashaw On Knee Injury
Dillashaw returned to the Octagon after a two-year doping suspension at UFC Vegas 32, where he defeated Cory Sandhagen by split decision. The former bantamweight champion is currently recovering from a knee injury he suffered in his most recent fight, and plans to make his comeback later this year, he told ESPN.
"It's (the recovery) on track, I just didn't realise how much work I would have to get done," Dillashaw said. "I didn't realise how beat up my knee was. I knew what I tore but once I watched the video of what [the surgeon] did to me, I messed it up really bad. I almost have a full range of motion. Strength is there. I've just gotta make sure I'm safe about getting those full motions. I wouldn't say an exact timeframe, but I imagine halfway through the year. I'm able to hit mitts, strength, and conditioning. I haven't done any grappling yet. That's the last thing I'll feel comfortable about again. And then I have to start thinking about getting into a camp."
Dillashaw On Aldo
When asked about Aldo's recent callout, Dillashaw said that he looks forward to fighting him someday, but his priority is to reclaim the title.
"Let's be honest, I left as a champion," Dillashaw said. "I came back, fought a number one contender after a two and a half year layoff. I was able to beat him. What else is there for me? Nothing is going to get me up and excited except getting my belt back. That's my goal. There's nothing else for me to really set my eyes on."
Aldo is currently riding an impressive three fight winning streak, with his most recent win coming against Rob Font at UFC Vegas 44.
Do you agree with TJ Dillashaw that he deserves to fight for the title next?
See also: