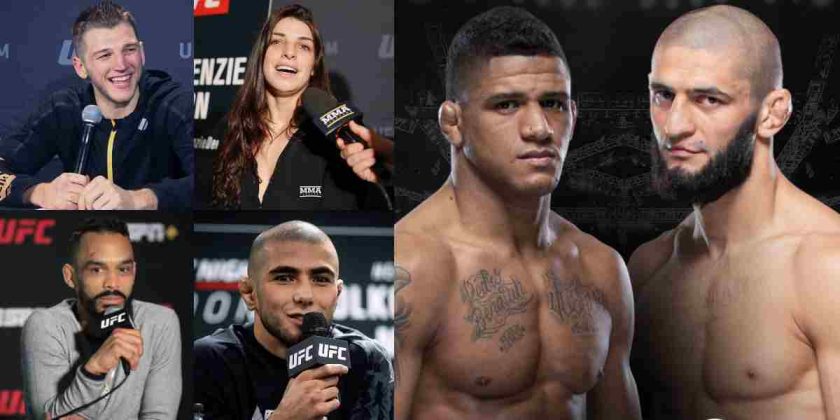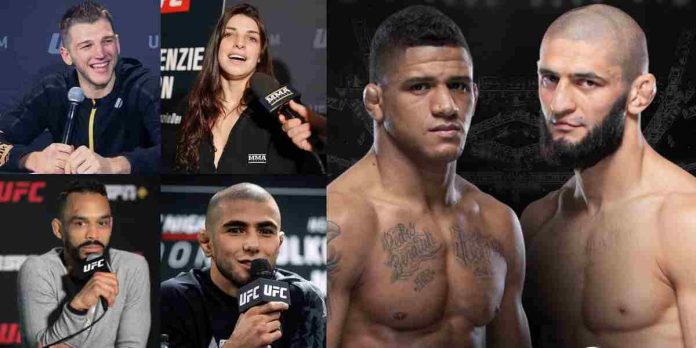 All eyes will be on Khamzat Chimaev this weekend when he faces his toughest test to date, in Gilbert Burns, on the main card at UFC 273.
Burns returned to winning ways by beating Stephen Thomson at UFC 264 after failing to capture the welterweight title against Kamaru Usman at UFC 258. The Brazilian will be looking to score a second straight win this weekend in the hope of another title shot. Chimaev has been on a roll, winning all of his four UFC fights in a dominant fashion, most recently submitting Li Jingliang in the first round at UFC 267.
MMA Pros On Gilbert Burns vs Khamzat Chimaev
Alex Volkanovski believes Chimaev will steamroll Burns, while Israel Adesanya sees 'Durinho' walking away with the win. Speaking to James Lynch, Dan Hooker, Max Griffin, Mackenzie Dern, Rob Font, Muhammad Mokaev and Steve Garcia gave their thoughts on what's being regarded as the people's main event.
Dan Hooker: "There's so much information on Gilbert, but there's just nothing on Khamzat. He keeps destroying these guys and walking right through them. Gilbert Burns is an elite of the division. He's too big of a jump for Khamzat to make in such a short period of time. If you're studying a fighter and actually breaking them down, you have to go with the one with the proven track."
Max Griffin: "Khamzat hand-picked guys he's fought. The first two guys were lightweights who can't wrestle. The next guy, Gerald Meerschaert, was scared out of his pants and then he fought Jingling, who just got held and wrestled by Neil Magny. He's not a grappler. Khamzat is impressive but he's beating guys that play right into his strengths. You can't hold Gilbert down, that's not gonna happen. I got Gilbert Burns every day of the week."
Mackenzie Dern: "We've seen Gilbert go through tough fights, where he's getting hit but keeps going forward. You can't stop him. He has great ground game and striking. Khamzat is on a hype train right now. He's definitely going up, so when you have all that attention, sometimes a little detail can make a big difference, and I think Gilbert is a little more mature in his career than Chimaev."
Rob Font: "It's a good fight. Gilbert's tough as hell. Khamzat's just a killer. I'm gonna go with Burns on this one."
Muhammad Mokaev: "I think Khamzat finishes him in the second round. I am rooting for him and I hope he wins the welterweight title very soon."
Steve Garcia: "Chimaev is actually looking like a beast, man. His striking looks good but his wrestling, especially after his last fight, looked like he was a mauler. It's kind of cool to watch. I know that they're hyping this guy up but Gilbert Burns is no slouch. It's gonna be a hard fight for him but I think Chimaev's gonna get it done within at least two rounds."
Who do you think will win the welterweight bout between Gilbert Burns and Khamzat Chimaev at UFC 273?
See also: