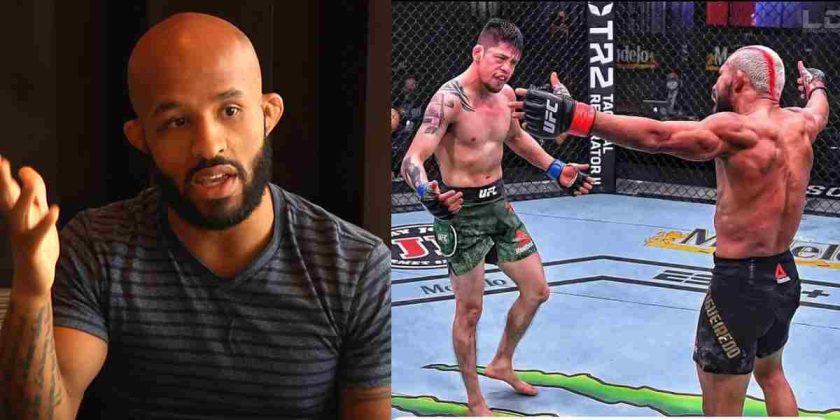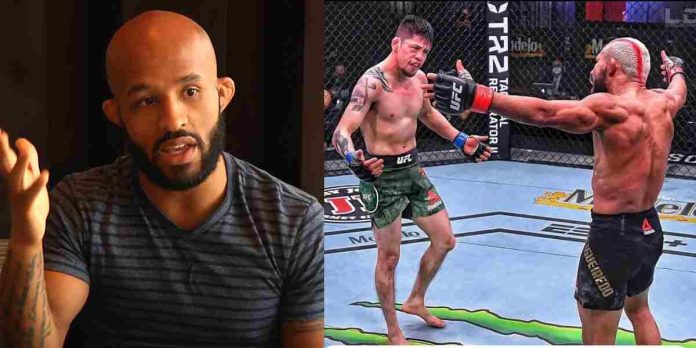 Demetrious Johnson isn't in favour of a fourth consecutive flyweight title fight between Deiveson Figueiredo and Brandon Moreno, expected to take place in the summer.
Figueiredo vs Moreno has become one of the most competitive MMA rivalries in recent years, with the pair having fought to a 1-1-1 record. Their first fight at UFC 256 ended in a majority draw before the Mexican won the title by steamrolling 'Daico' in their rematch at UFC 263. The Brazilian reclaimed the title however, by beating his arch-rival by a razor close unanimous decision at UFC 270.
Demetrious Johnson On Figueiredo vs Moreno 4
While a fourth fight between the two makes sense, Johnson said that he wants to see fresh faces, like Kai-Kara France and Alexandre Pantoja, fight for the belt. Speaking on MMA Fighting's The MMA Hour (as transcribed by BJPenn.com), the flyweight GOAT said that he doesn't want to see a fourth fight between Figueiredo and Moreno.
"The [Deiveson Figueiredo] versus Brandon Moreno fight, why do a fourth fight? Like, why? Fight Pantoja, let Pantoja fight. Let Kai-Kara France fight," Johnson said. "Let someone totally different fight. Get a fresh look in front of you… Yes, it makes a lot of money sense for the UFC, and maybe the athletes too. But I know how the UFC contracts are structured, whether Brandon Moreno fights Figueiredo or Kai Kara-France, I'm sure gonna get the same pay. Those boys ain't getting the same pay-per-view points. Flyweights never get paid pay-per-view points. Don't act like y'all getting 800,000 thousand pay-per-view buys."
Kai Kara-France is currently riding a three fight winning streak, with his most recent win coming against Askar Askarov at UFC Columbus, which earned him a callout from Figueiredo, who believes the New Zealander is more deserving of a title shot than Moreno.
Do you agree with Demetrious Johnson?
See also: