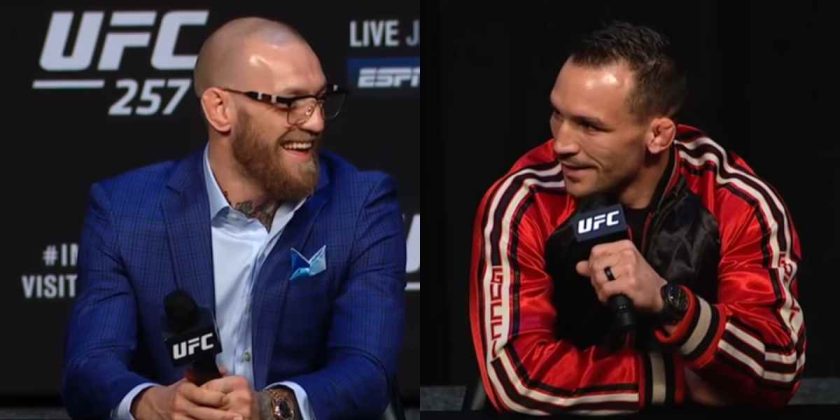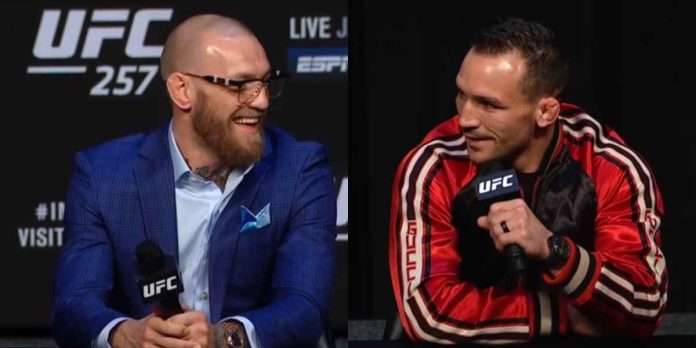 Michael Chandler has heaped praise on Conor McGregor for his incredible ability to stay composed during pressure situations.
McGregor is coming off two brutal losses this year against Dustin Poirier, at UFC 257, where he was knocked out in the second round, and at UFC 264, where he lost by a doctor's stoppage, after he broke his tibia moments before the end of the first round.
Chandler is also coming off back to back defeats, against Charles Oliveira at UFC 262, where he was finished in the second round of their vacant lightweight title fight, and at UFC 268, where he lost to Justin Gaethje by unanimous decision after a three round war.
Earlier this month, Chandler challenged McGregor to a showdown, posting a photoshopped image of their face off on Twitter. The Irishman accepted the challenge, and congratulated the American for putting on a show despite losing to Gaethje.
'Casuals And Haters'
It's evident that there's a lot of mutual respect between the two fighters. Speaking on Bussin' With The Boys podcast, Chandler said that those who discredit McGregor because of his recent run of defeats are either 'casuals' or 'haters'.
"It's a different approach when you're fighting a guy like Conor because fighting a guy like Gaethje, who loves to brawl, is much easier than a guy who you're really afraid to sometimes throw a punch at because of the shot that you don't see coming as you're pulling your hand back," Chandler said. "So, you've definitely gotta be on your Ps and Qs with the striking. But then the coolest thing about Conor, too, is everybody always talks about how bad of a wrestler he is, how bad of a grappler he is. Chad Mendes took him down a couple times. He got taken down a couple times in the second [Nate] Diaz fight.
"He got taken down numerous times in other fights. And he has always kept his composure. His mental awareness capacity and stability inside of the Octagon, inside the confines of competition – especially with how heightened the stakes and the senses are, inside of his fights, while everybody in the entire world is watching – it's something to behold, man. He's a different level of competitor. And anybody who discredits him because he's lost fights is just either a casual or a Conor hater, to be honest with you."
Do you agree with Michael Chandler?
See also: