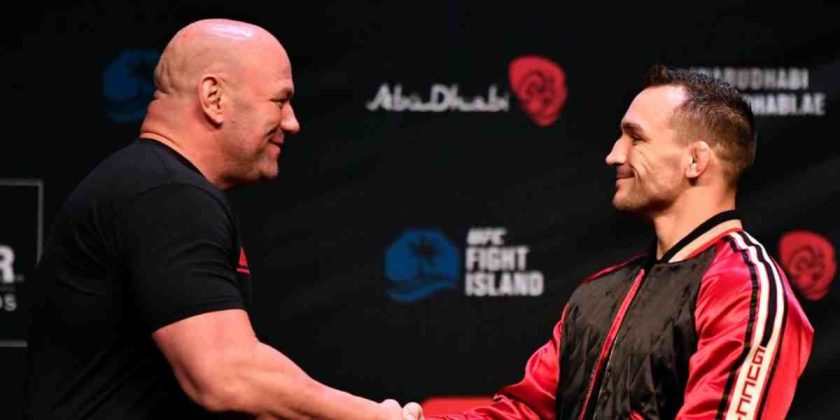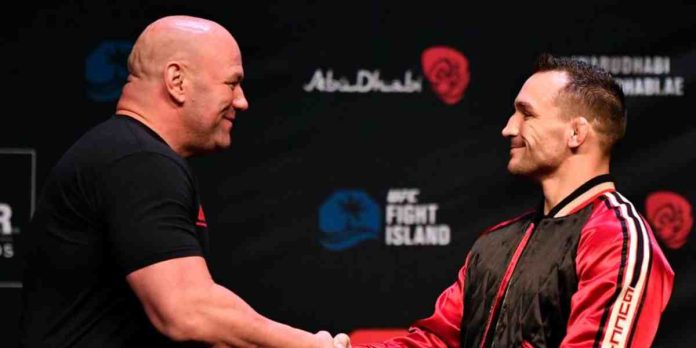 Michael Chandler believes that it's unfair to criticise Dana White over fighter pay because fighters have it a lot easier than the UFC president.
Chandler is coming off a second round front kick knockout win against Tony Ferguson at UFC 274. In an interview a day after his win, the former Bellator champion said that although his fixed UFC income doesn't exceed that of his previous promotion, he's making a lot more money outside of fighting as competing in the UFC has helped him build his brand.
Michael Chandler Defends Dana White
Speaking on 'How U Livin J Piven' podcast (as transcribed by MMA Mania), Chandler defended Dana by implying that fighters should generate multiple revenue streams instead of complaining because the UFC pays them a decent wage.
"I have been able to monetise things outside my fights," Chandler said. "You always see guys on the microphone saying the UFC should pay more, or the media saying the UFC should pay more, and it's never the guys who are out there having their own YouTube channel, getting roles in movies, building fitness and wellness lifestyle programs, selling merch, doing all of the different things that we can do as fighters because we're independent contractors.
"I don't have a problem with the 'fighter pay argument,' people think that we should make a lot more money because the UFC makes a ton of money on their shows. Well the UFC has been at it since 1993. Dana White has had 10,000 sleepless nights when us fighters are just showing up to practice, going to bed, laying our head on the pillow and getting after it and getting paid a decent wage for what we do."
The UFC has come under increased scrutiny over fighter pay in the last few years, with bigwigs like Francis Ngannou and Jon Jones openly speaking out against the promotion's policies. The Cameroonian's future with the UFC hangs in the balance as he demands a big pay rise and freedom to transition into the world of boxing to sign a new deal. 'Bones' also wants seven-figure pay days and won't fight for less than what he believes he's worth.
Do you agree with Michael Chandler?
See also: