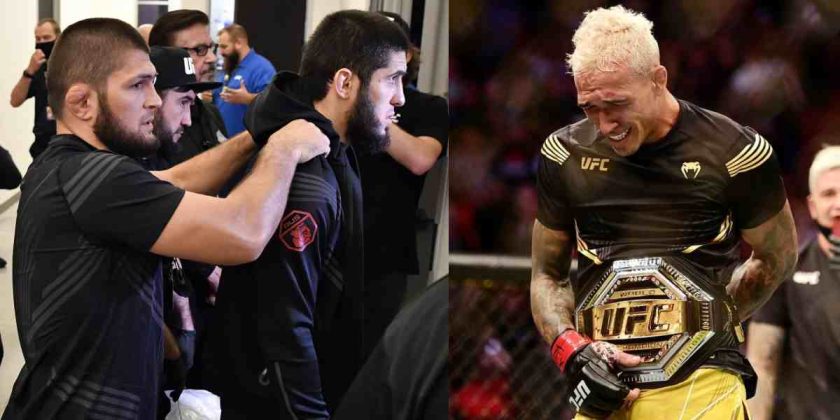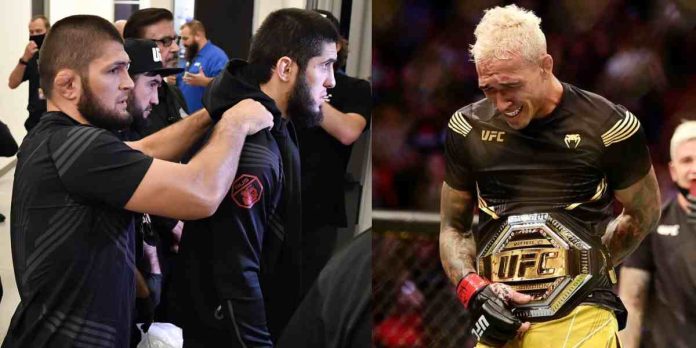 Khabib Nurmagomedov believes Charles Oliveira won't be considered the undisputed UFC lightweight champion until he beats Islam Makhachev.
Although Oliveira was stripped of his lightweight title after missing weight by half a pound for his title fight against Justin Gaethje at UFC 274, which he won by first round submission, he's still considered the uncrowned champ by fans and pros, including Khabib. The Dagestani however believes that while the Brazilian deserves to be champion, he has to beat Makhachev to prove that he's the best 155 pound fighter in the world.
Khabib Nurmagomedov On Charles Oliveira
Speaking to ESPN (as transcribed by MMA Fighting), Khabib said that he won't consider Oliveira the undisputed lightweight champ until he beats Makhachev.
"If Charles beats Islam, then we have to give him credit," Khabib said. "Then he's going to be undisputed UFC lightweight champion. Right now, I believe he's champion… right now, he deserves to be champion. He's doing a very good job, but he's not undisputed. When I finished, I was undisputed. I fight with Conor [McGregor], I fight with interim champ Dustin Poirier, I fight with interim champ Justin Gaethje… These guys were in different time, in different prime, not like when now they fight versus Charles Oliveira. It was one and a half to two years ago, and when I finished, I was undisputed. Like he said, 'We have champion, his name is Charles Oliveira.' I agree with him, but he's not undisputed.
"But if he beats Islam, of course I'm going to feel bad, but it's no way people can talk about, 'Khabib's going to come back.' Leave me alone. Let these guys fight. This is different time, different fighters, now they're prime time, and we have to understand who is the best lightweight in the world right now, between Charles and Islam Makhachev."
Do you agree with Khabib Nurmagomedov?
See also: