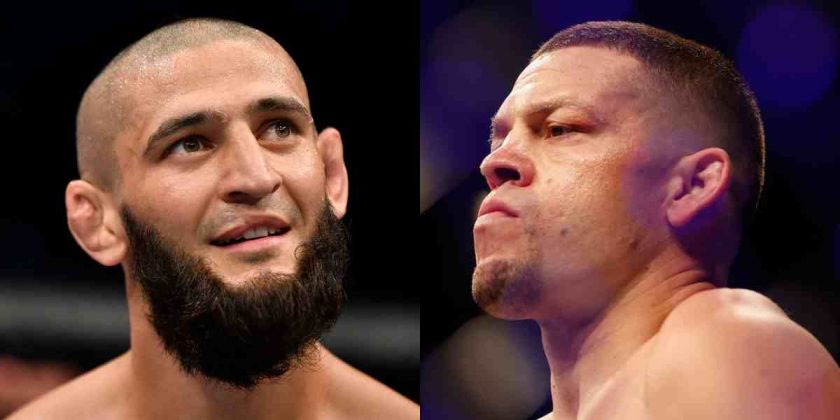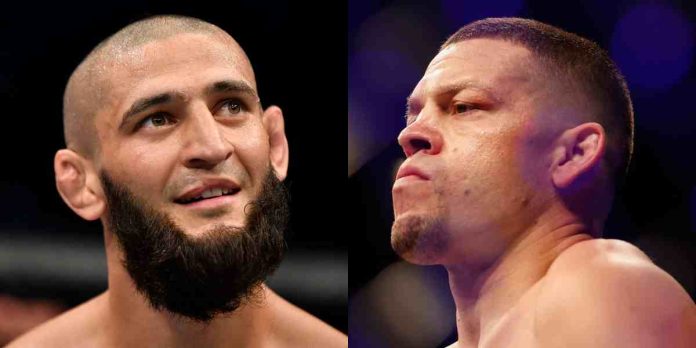 Khamzat Chimaev has fired back at Nate Diaz for saying that 'Borz' hasn't done enough to deserve a fight against him.
Diaz is coming off a unanimous decision loss to Leon Edwards in his most recent fight at UFC 262, and is currently on the last fight of his contract with the UFC. The Stockton native has shown interest in potential fights against Vicente Luque and Tony Ferguson but doesn't like the idea of fighting Chimaev, who is coming off a first round submission win against Li Jingliang at UFC 267.
Diaz On Chimaev
Speaking to TMZ Sports, Diaz explained why he doesn't want to fight Chimaev.
"They (UFC) are coming at me with Khamzat, and I'm like, 'hold on, don't disrespect me like that, trying to offer me a fight with a rookie,'" Diaz said. "I'm cool, you got four fights in the UFC. Don't even talk my name."
Diaz continued by saying that he's down to fight any top ten contender across any weight class, but nobody wants to fight him.
"I'm trying to fight somebody in the UFC, like ASAP, but nobody wants to fight. I've been trying to get somebody for a minute," Diaz said. "Anybody from the top 10, I've been trying to fight, in any weight division, but they all wanna keep their mouth shut cause they're all scared."
Chimaev Fires Back
Chimaev fired back at Diaz in a series of tweets, calling him a 'fake gangster'.
"You [Diaz] fake gangster and I don't care who to fight I'm coming for everybody. Where are you all the gangsters and kings? I'm here to kill everyone. I'm the king here. I'm a gangster here," Chimaev tweeted.
The 27-year-old also told Diaz to convey a message to his elder brother, Nick Diaz.
"Say hello to your older brother, tell him not to be afraid of me. I don't beat old people, he knows what I mean, in Vegas I just wanted to say hello well. Poor man ran away," Chimaev said.
Who do you think would win a potential fight between Khamzat Chimaev and Nate Diaz?