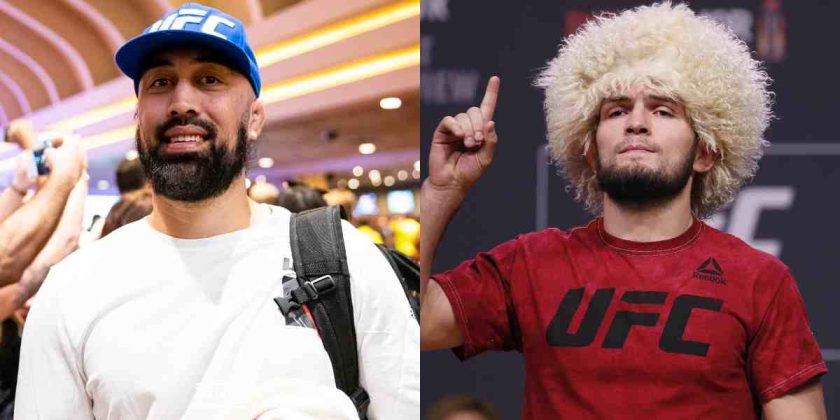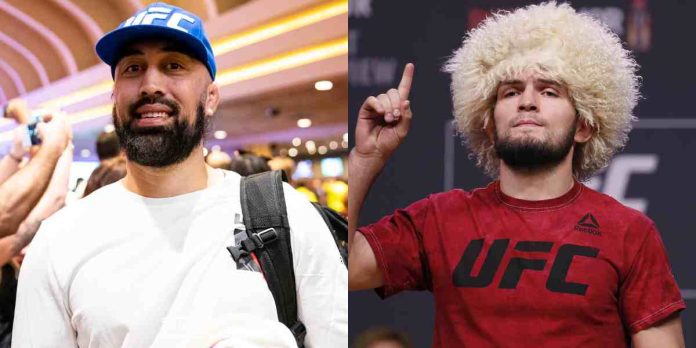 Israel Adesanya's coach Eugene Bareman has criticised former UFC lightweight champion Khabib Nurmagomedov for his trash talking post-retirement.
Khabib retired from the sport after successfully defending his title against Justin Gaethje by second round submission at UFC 254. Since then, 'The Eagle' has been busy promoting Islam Makhachev, who he believes deserves to fight for the title. The Dagestani engaged in a war of words last month with Tony Ferguson and Justin Gaethje, who believes he's the next in line to fight for the belt.
Bareman's Thoughts On Khabib
Speaking to Submission Radio (as transcribed by MMA Fighting), Bareman said that he's disappointed to see Khabib resort to trash talking, because he always believed the Russian was a 'purist'.
"Khabib talks more s*** about other fighters than anybody and I'm disappointed to see that," Bareman said. "Because for me, he was a guy that, oh man, this guy's still a purist. That's not a part of his DNA. But now you see him slagging off fighters, and then Makhachev does the same. That never used to be a part of their culture in the sport. They had their own unique place in the sport. Now they're just like everybody else. Khabib talks just as much s*** as everybody else. He used to respect all fighters. He used to respect all fighters a lot. Same as Makhachev. I heard that maybe their manager controls their Twitter. But then they're still foolish for letting the manager control their Twitter.
"I like the old, I like the way they used to be, before they got all Hollywood. They had their own culture. It was theirs. They weren't trying to be American. They brought a real pure kind of edge to the sport that's missing from the very top, that's missing from the very top because it's so cutthroat. But to see them now, just Twitter, Twitter, Twitter, blah, blah, blah, 'no good, this guy's here for a payday, this guy's here for that, this guy's no good, you're all shit, you shouldn't fight him, you don't deserve'. Like, just do your thing. And how they do their thing is they just fight until it just gets to a point when you can't say no. And that was the thing that I respected. That's all."
Do you agree with Eugene Bareman?
See also: