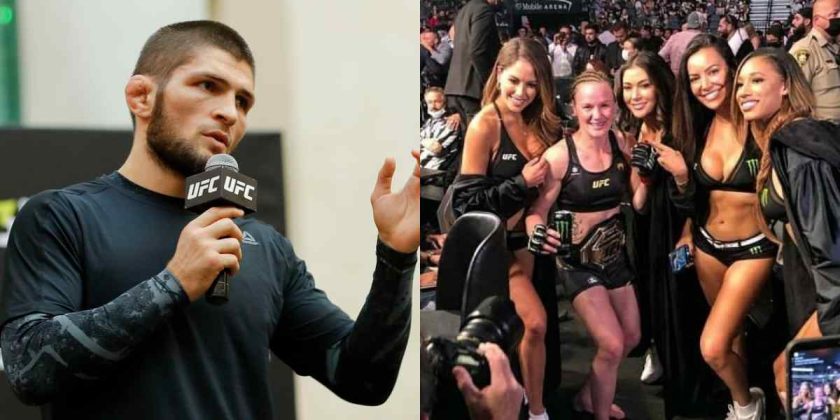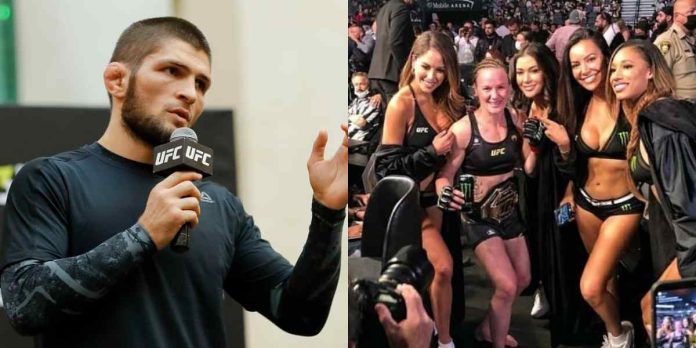 Former UFC lightweight champion Khabib Nurmagomedov has responded to criticism over his comments about ring girls.
During an event in Russia in August, Khabib was asked whether he would hire ring girls for his promotion, Eagle Fighting Championship. 'The Eagle' responded by saying that his promotion doesn't need ring girls because they are "useless" or "unnecessary".
Khabib's comments caused a major uproar on social media, with arch-rival Conor McGregor taking a swipe at him through a meme, which was shared by UFC ring girls Arianny Celeste and Brittney Palmer.
The Dagestani was also criticised by flyweight champion Valentina Shevchenko, who backed ring girls by saying that "beautiful women is a decoration of any event" during the UFC 266 post-fight press conference.
'I Don't Care'
Speaking to the media in England (as transcribed by RT.com), Khabib doubled down on his comments about ring girls, adding that he doesn't care about the backlash.
"I never think about 'Oh, maybe people are going to like this or not,'" Khabib said. "I know, all the time, I say a lot of strange things too, but I don't care. This is my opinion: I'm born with this, I grew up with this and I have [delivered in] straight [style] my opinion. Sometimes, when I say something, people don't agree with this but I don't care because I know I am right in my mind.
"Everybody has their own views on something. For example, a couple of months ago someone spoke about my own promotion, Eagle Fighting Championship, and asked why there are no ring girls there. I said it is because, in my opinion, there is no reason [for them]. Some people don't agree with this, but who cares? I don't care because I have my opinion."
Khabib retired from the sport after successfully defending his title against Justin Gaethje by second round submission at UFC 254.
Do you agree with Khabib Nurmagomedov?
See also: