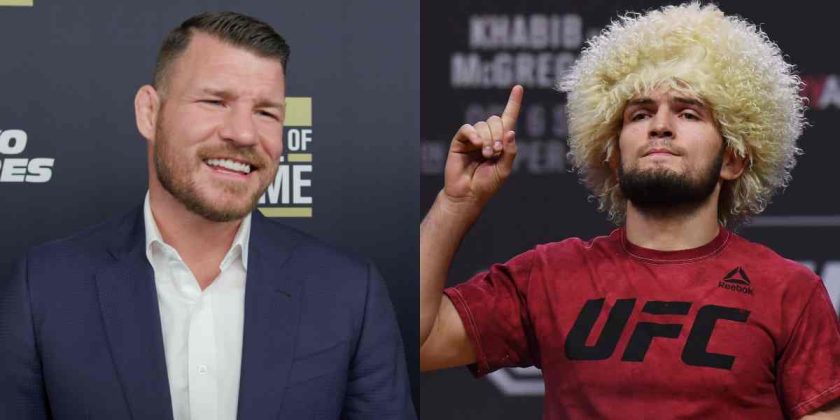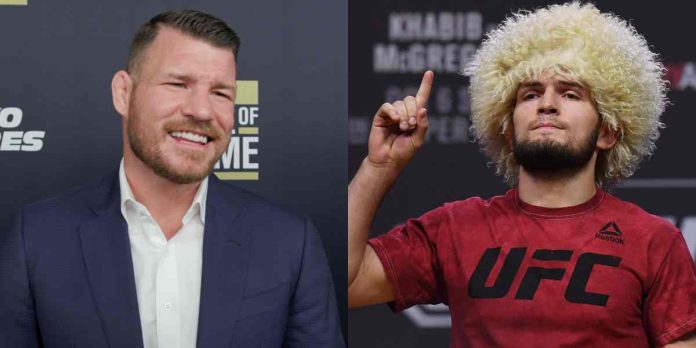 Michael Bisping has explained why he doesn't believe former UFC lightweight champion Khabib Nurmagomedov is the greatest MMA fighter of all time.
Georges St-Pierre, Jon Jones and Anderson Silva are widely regarded as three of the greatest fighters of all time, but Khabib's name is often thrown into the mix due to his sheer dominance inside the Octagon. Although many, including Bisping, believe he left the sport way too early to be considered the GOAT.
Khabib Isn't The GOAT
Speaking on The Pain Game podcast, Bisping said that he doesn't consider Khabib the GOAT as his resume isn't as impressive when compared to the likes of GSP, Jones and Silva.
"Yeah, he took himself out of it. And if you look, yeah, he didn't fight the best until the end of his career. When you compare that with GSP or Jones or Anderson, their run against world-class competition was far longer. But for Khabib, I know it was because of his father passing away, and he made a promise to his mother. So, it's different circumstances.
"But for those reasons, I think when you look at the resumes, even though he was undefeated, the resumes don't really stack up. And I say that with tremendous respect to Khabib – Far being from me to downplay his career because I would never dream of doing that."
Khabib successfully defended his title three times after winning it at UFC 223, where he beat Al Iaquinta by unanimous decision. He made his first title defence against arch-rival Conor McGregor at UFC 229, where he won by fourth round submission.
The Dagestani successfully defended his title for a second title by submitting Dustin Poirier in third round at UFC 242. While his third successful title defence came against Justin Gaethje, where he won by second round submission at UFC 254. After which Khabib Nurmagomedov announced his retirement.
Do you agree with Michael Bisping?
See also: