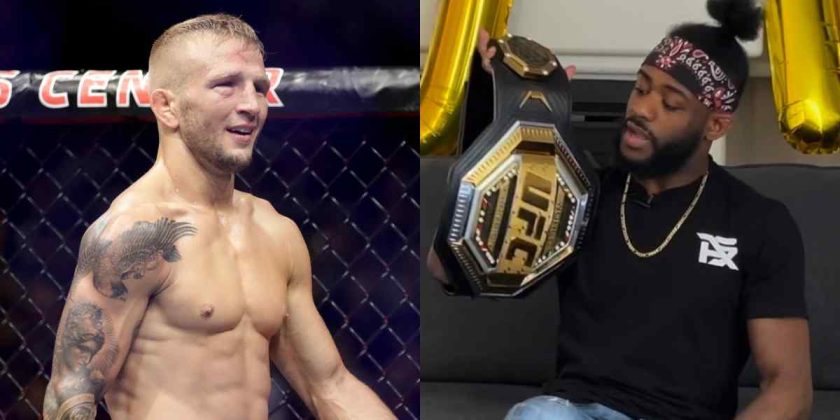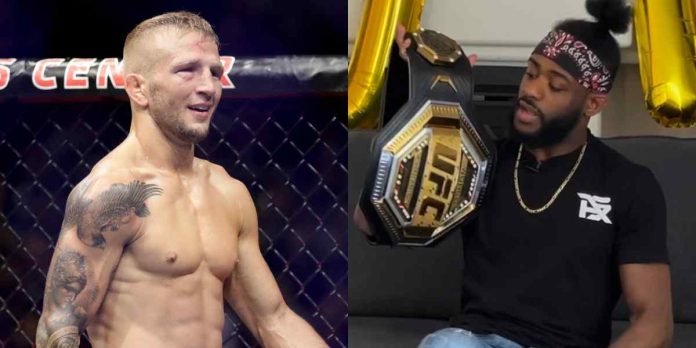 TJ Dillashaw doubts UFC bantamweight champion Aljamain Sterling will make his return to the Octagon after his neck surgery.
Sterling, who won the title in a controversial manner after Petr Yan was disqualified due to an illegal knee at UFC 259, was scheduled to defend his belt against the Russian at UFC 267, but had to pull out as he still hasn't fully recovered from the neck surgery he had earlier this year.
UFC 267 will now feature an interim title fight between Yan and Cory Sandhagen, who lost to Dillashaw by a razor close split decision at UFC Vegas 32.
Dillashaw's Thoughts On Sterling
Speaking on MMA Fighting's The MMA Hour, Dillashaw said that Sterling is trying to hold on to the belt for as long as he can.
"I don't really know if Aljo (Sterling) is ever gonna come back to be honest," Dillashaw said. "From what he had done, it's kind of crazy. I mean if I was him, I would have waited for that to get done. My strength and conditioning, wrestling coaches said the medics who did his neck don't believe he's ever gonna come back. I think he's just holding on to his belt as long as he can, maybe try to soak up. I've had that feeling already. So when he pulled out of the [Petr Yan] fight, I wasn't surprised. I bet he's dealing with lots of stuff. You go get your neck cranked down, it's definitely not good."
Dillashaw also said that Sterling should have delayed his neck surgery, which could keep him on the sidelines indefinitely.
"You're on top of the world," Dillashaw said. "You're champion. Yeah, you won it the way you did but now you're going to start getting paid like a champion. You're going to have these big fights. Take advantage of them while you can. Don't go out and get this neck surgery. I understand he's got the problem, he has the injuries. I was dealing with two blown out shoulders when I was the champion but I wasn't willing to sit out for a year cause I had big paydays."
Do you agree with TJ Dillashaw?
See also: