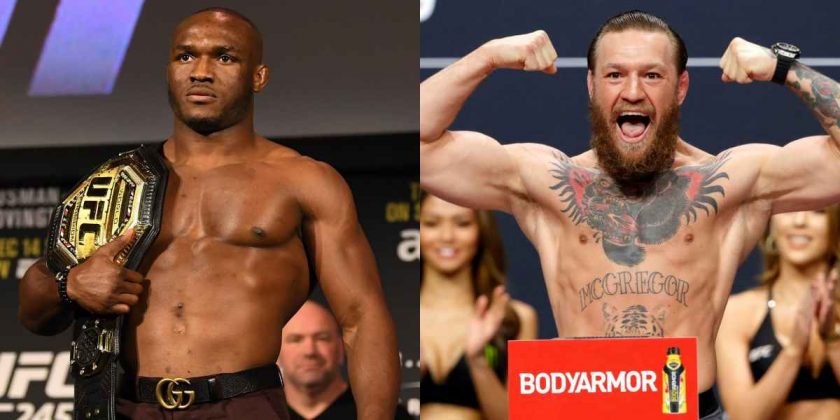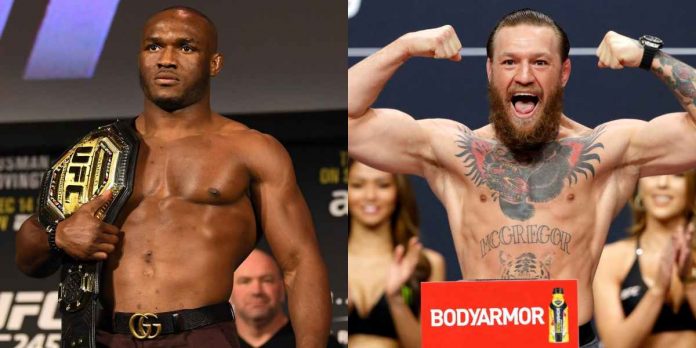 UFC welterweight champion Kamaru Usman has once again responded to Conor McGregor accusing him of copying him.
After Usman's third title defence at UFC 261, where he brutally knocked out Jorge Masvidal in the second round, McGregor took to Twitter to claim that the Nigerian copied his 'shots' to defeat his arch-rival. To back up his claims, the Irishman posted a clip from his UFC 257 bout against Dustin Poirier, which he lost by second round TKO.
Usman Claps Back At McGregor
Speaking on the Full Send podcast, Usman dismissed McGregor's allegations, saying that the Irishman is trying to 'steal clout' with his tweets.
"Now, all he tries to do – and it's strategically systematic – yeah, he's systematic," Usman said. "He's strategic. When he sees anything happening that's bigger than him, he tries to steal the clout. He'll tweet. Every major fight that happens, what happens? Conor tweets about it. Oh, he tweets about this. Every time I fight, he's talking about me; tweets about me. 'Oh, you're stealing my style.' How? What are you talking about?
"You know, like, at the end of the day, I state what I'm capable of doing and what I'm going to do, you know. So, he's, 'Oh, you stole the way that I threw this combination or this punch.' Bro, it's fighting. If it works, it works. If this one-two works, it works. He's like, 'Oh, no. That was mine. I did the one-two.' Were you the first one to ever do it, you f***ing weirdo?"
Usman most recently fought at UFC 268, where he defended his title in his rematch against Colby Covington by unanimous decision after a five round war, while McGregor is recovering from a broken tibia he suffered at UFC 264, where he lost to Dustin Poirier by a doctor's stoppage at the end of the first round.
Do you agree with Conor McGregor that Kamaru Usman is trying to copy him?
See also: