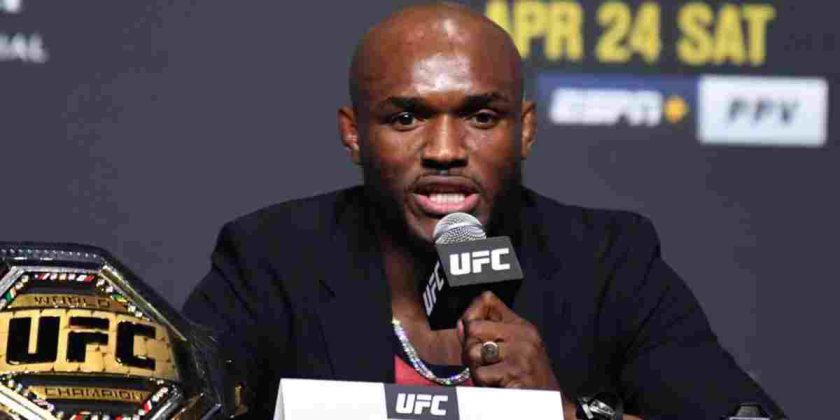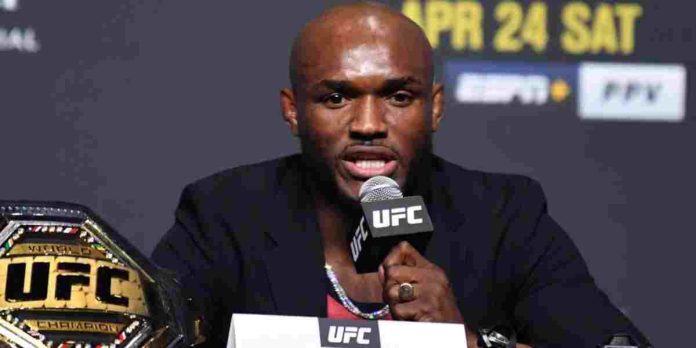 UFC welterweight champion Kamaru Usman has given his thoughts on the grudge match between Colby Covington and Jorge Masvidal, which will headline UFC 272 this weekend.
Both men are looking to return to winning ways, after losing their most recent fights to Usman. Covington lost to 'The Nigerian Nightmare' by unanimous decision at UFC 268, whereas Masvidal was knocked out in the second round at UFC 261.
Kamaru Usman On Covington vs Masvidal
Having fought Covington and Masvidal twice, Usman understands their strengths and weaknesses. Speaking on the UFC Vegas 49 post-fight show on ESPN (as transcribed by MMA News), the Nigerian said that 'Gamebred' has the tools to beat his friend turned bitter rival at UFC 272.
"I think he can potentially win this fight because one thing about Masvidal is he's one of the only guys who is, in his stance, he's so tall in his stance," Usman said. "But he's able to defend takedowns from some of the best wrestlers. He's very, very good; his striking is so relaxed and so fast, and if he's able to touch you, it might not feel as hard, but he can touch that button and shut the lights out.
"Being able to run across the Octagon in five seconds and land a knee like that [against Ben Askren] just shows the different level of athleticism. He's an athlete, he's a skilled striker, he's a skilled fighter, and he definitely has the tools to be able to land that shot to steal this fight away from Covington."
Usman continued by saying that Covington will have to work really hard to take the fight to the mat, as Masvidal has excellent takedown defence. As for the BMF champion, the UFC pound-for-pound king said that he shouldn't underestimate his foe's striking.
"One thing I will say is I think in this fight, Colby's going to realise that it's harder to take Masvidal down in an actual fight than when they were in practice," Usman said. "I know in his mind, he's gonna expect it to be like it was when they practiced. But they spent some time apart now, and I think he's gonna realise it's a lot harder to take him down in a fight than it is in practice. And Masvidal, on the flip side, he's gonna realise that it's a lot harder to strike with this guy now than back when I was beating him up when he first came into the sport."
Do you agree with Kamaru Usman?
See also: