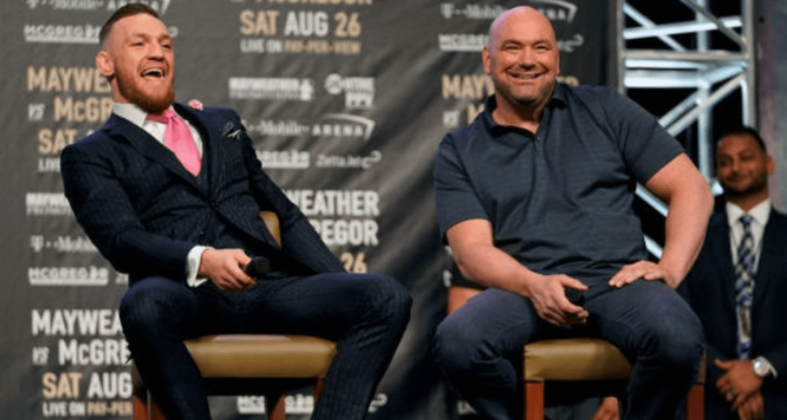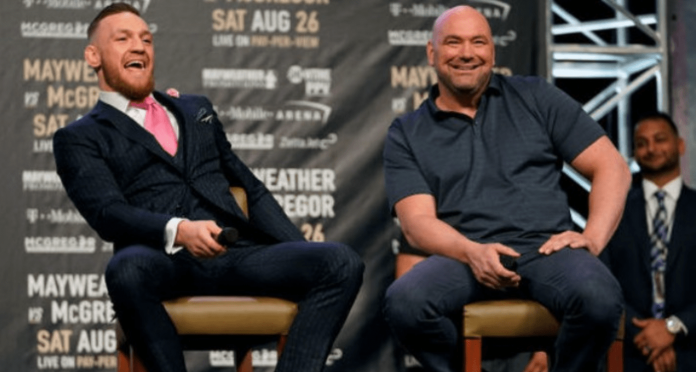 Dana White isn't ruling out the possibility of Conor McGregor getting an immediate lightweight title shot upon his return to the Octagon this summer.
McGregor is coming off back-to-back defeats at the hands of Dustin Poirier, most recently at UFC 264, where he lost by a doctor's stoppage after breaking his tibia seconds before the end of the first round. In a recent interview, the Irishman revealed that his recovery is going well, and he expects to resume full training within the next two months. He also asked reigning champ Charles Oliveira to wait for him, instead of going forward with his scheduled title defence against Justin Gaethje at UFC 274 in May.
An immediate title shot for McGregor could be likely if Oliveira remains champion, as he previously admitted that he wouldn't say no to a fight with MMA's biggest star. If Gaethje wins the belt at UFC 274, however, things would be more interesting, but given the life-changing money he'd earn through a potential fight against 'The Notorious', he too might consider giving him a chance.
Dana White On Conor McGregor
Speaking to The Underground (as transcribed by BJPenn.com), Dana said that McGregor getting an immediate title shot depends on who the champion is when he makes his comeback.
"There's a lot of variables that have to come together for him to come back and fight," Dana said. "Number one is health and how's his leg, and then once that's a hundred percent, we'll start to figure out where he goes.
"It's gonna depend on who the champion is. The champion has some say in that too. Who's gonna be the champ when Conor McGregor comes back? And what do they wanna do? If you look at Oliveria, right… If it's still Oliveira by the time he comes back, maybe Oliveira wants Conor. Who knows? I don't know, we'll see what happens."
How do you think Conor McGregor would fare against Charles Oliveira or Justin Gaethje?
See also: