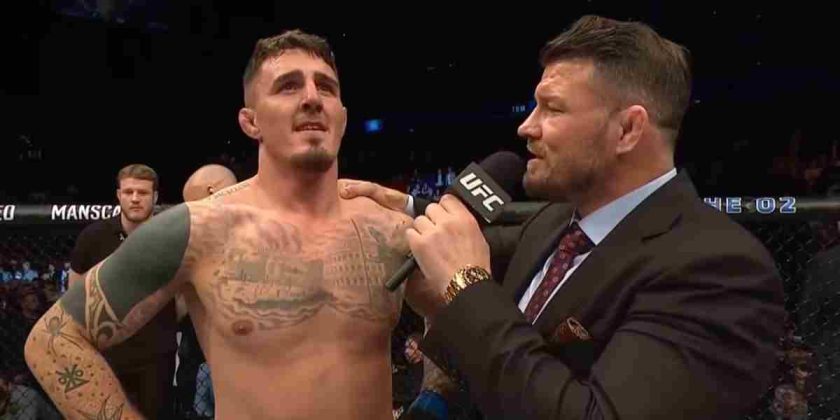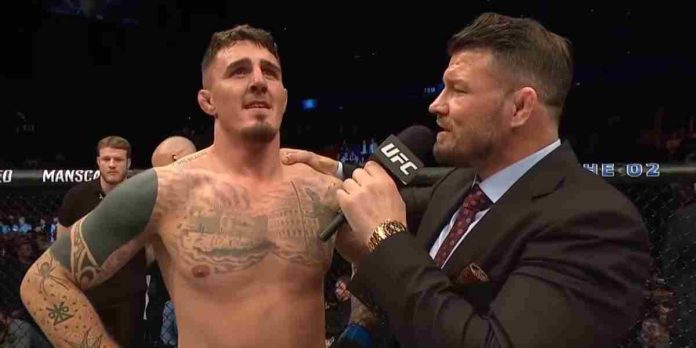 Tom Aspinall has explained why he isn't interested in fighting for the UFC interim heavyweight title for the time being.
Aspinall improved to 4-0 in the UFC by scoring a dominant first round submission victory over Alexander Volkov at UFC London. With reigning champion Francis Ngannou expected to be on the sidelines for a year after undergoing successful knee surgery, Dana White said that the UFC will likely introduce an interim title, with Stipe Miocic, Jon Jones, and Tai Tuivasa being the frontrunners to fight for it.
Tom Aspinall On Interim Heavyweight Title
During an interview with Shakiel Mahjouri (as transcribed by BJPenn.com), Aspinall was asked about the possibility of him competing for interim gold. In response, the Brit said that he isn't thinking about gold at the moment because the likes of Miocic, Jones, and Ciryl Gane are more deserving.
"I would have loved more fights before I fought someone like Volkov or someone like [Andrei] Arlovski or [Serghei] Spivak or all them kind of guys," Aspinall said. "I would have loved more experience before I fight them guys. I'm kind of a product of my own success, I guess. I'm struggling to get that experience against anybody else. To be honest, I was sure that someone like Volkov would give me them kind of rounds but, obviously, that didn't work out that way.
"That's not really something that I think about (the interim title). I'm not interested in that, really. I think there are other people that deserve it more like Stipe or Jon Jones. There are definitely other people who deserve it more than me. I've only just broken into the top 10. I'm not looking at doing any of that stuff. Look at Ciryl Gane, he was this close to beating Ngannou. People like that guy deserve it way more than me."
Do you agree with Tom Aspinall?
See also: