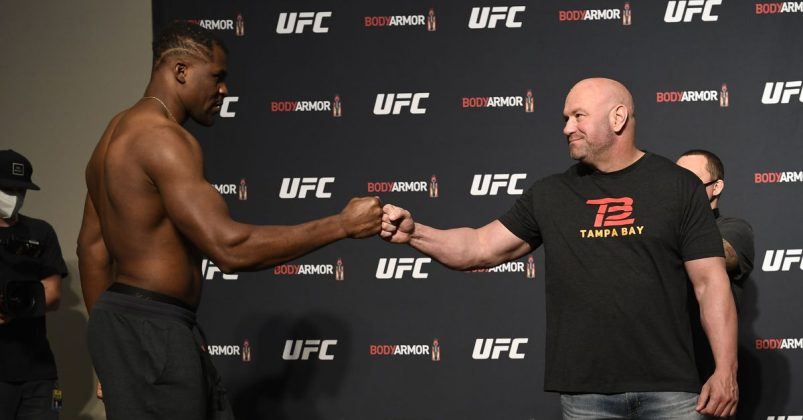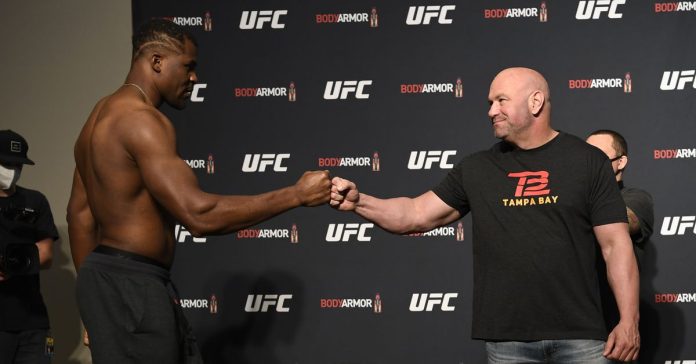 Dana White has a piece of advice for UFC heavyweight champion Francis Ngannou ahead of his title unification bout against Ciryl Gane at UFC 270 on Saturday.
Ngannou has been engaged in a tug of war with the UFC over his current contract. 'The Predator' claims that his title defence against Gane will be the last fight on his current deal, adding that he will only sign a new deal if he gets a pay rise, with the freedom to transition into the world of boxing. The Cameroonian recently engaged in an online battle with boxing world champion Tyson Fury, who's more than willing to fight him.
Much of the talk during the UFC 270 fight week has been about Ngannou's contractual dispute with his promotion, and a boxing showdown with Fury, which has clearly annoyed Dana.
Dana White On Francis Ngannou
Speaking on The Jim Rome Show (as transcribed by MMA Fighting), Dana said that Ngannou should focus on the task at hand instead of talking about a potential boxing showdown with Fury.
"You're talking about, you don't want to fight under your contract – he gets a piece of pay-per-view, like all the other champions do," Dana said. "You're worried about all these other things – I want to box Tyson Fury. … You're the underdog on Saturday night. You're not a huge, 10-1 favorite. Beat Ciryl Gane. Win this fight, then you can start talking about the possibility of other things.
"All these guys think they want to box. Him boxing Tyson Fury, he's got that kind of power that anything could happen. But he should be worried about Saturday night. That's one of the problems when you start jumping over and thinking about things – focus on Ciryl Gane and winning this fight."
Francis Ngannou last fought at UFC 260, where he stopped Stipe Miocic in the second round to win the heavyweight title.
Do you agree with Dana White?
See also: