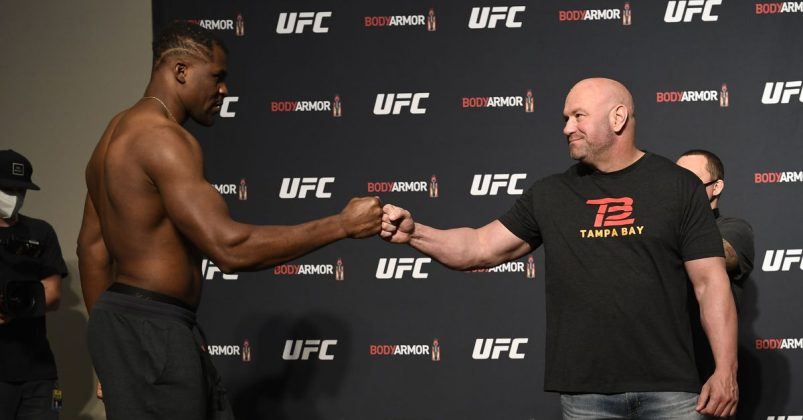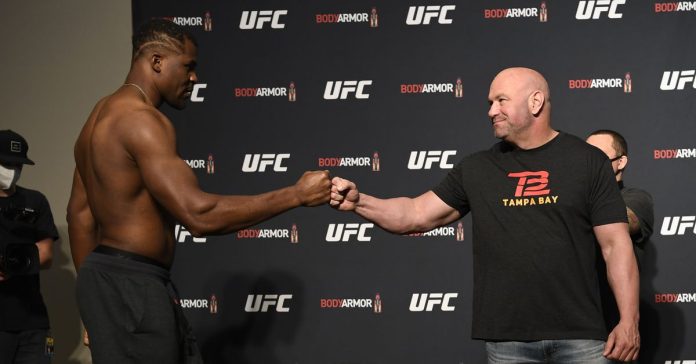 UFC heavyweight champion Francis Ngannou has revealed details of his recent meeting with Dana White, and said that he will not fight in the UFC for $500,000 or $600,000 anymore.
Ngannou Shares Details Of Meeting With Dana
Ngannou, who won the title by knocking out Stipe Miocic in the second round at UFC 260, will face interim champion Ciryl Gane in their title unification bout at UFC 270 this month. 'The Predator' has been engaged in a contractual dispute with the UFC for nearly a year now, which has also turned his relationship with Dana White sour. The two recently broke the ice on a dinner meeting, where the Cameroonian conveyed his reservations, he told ESPN.
"It (the meeting) went pretty well," Ngannou said. "At this point, I'm not upset. I went up to [Dana] to greet him and we wished each other happy holidays. And I told him my frustration. I expressed to him that I'd like to stay in the UFC but I don't feel like the UFC wants me to stay. I don't feel like I have a promoter anymore. I didn't feel I was promoted. Maybe I can be wrong about that, but I [didn't] see anything compared to what happens with other fighters."
Contractual Dispute
Ngannou believes he will fight out his contract against Gane, but if he wins, a champion's clause could delay his next move. Dana however believes his fight against the Frenchman isn't the last one on his current deal.
Contractual issues aside, Ngannou guaranteed that he will no longer fight in the UFC for what he's currently being paid.
"Contractually, it (Gane fight) means that I have executed the eight fights that were on my contract," Ngannou said. "And the championship clause, people don't understand that in the contract, is optional. Because it says in there that at the end of the contract, if you're the champion, you're extended for three fights or one year, but [all that made me think] it's optional.
"I will not fight for $500,000, $600,000 anymore. I mean, it's over. It's over. I just did this. I took this fight for a personal reason, and I want to make sure that regardless, even if it's unfair, I have been wrongly treated, I can make my case to say I have completed the eight fights. But no."
See also: