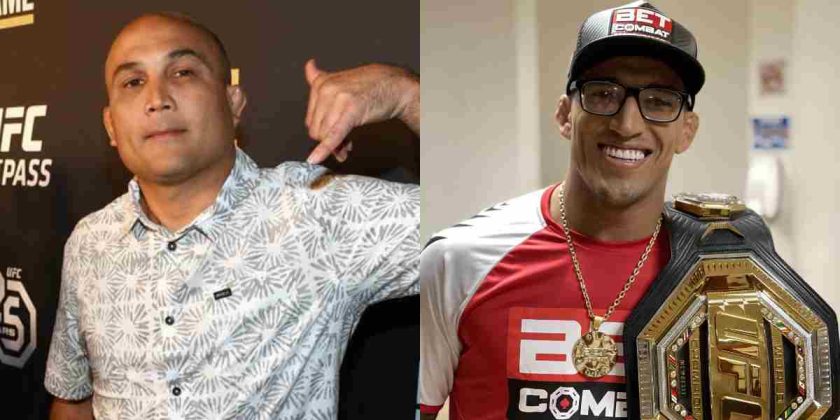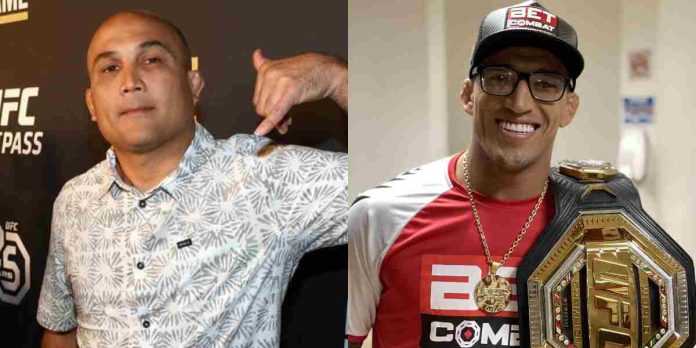 BJ Penn believes Charles Oliveira has the skills to become the longest-reigning lightweight champion in UFC history and surpass him, Khabib Nurmagomedov, Frankie Edgar and Benson Henderson, all of whom have three title defences to their name.
Oliveira won the vacant title by stopping Michael Chandler in the second round at UFC 262, and made his first title defence against Dustin Poirier, winning by third round submission at UFC 269. He will likely defend his title against Justin Gaethje next.
BJ Penn Heaps Praise On Charles Oliveira
Speaking to BJPenn.com, 'The Prodigy' heaped praise on Oliveira, backing him to break the record for the most title defences at lightweight.
"I think he is unbelievable," Penn said. "One of the very best for sure. He's a true finisher and extremely well rounded in all facets of the game. If anyone out there could do it (beat the lightweight record of three title defences), my money is on Charles, for sure. I remember when he submitted Kevin Lee. Right then and there I was like 'This is the one guy who could beat Khabib'. Then he went on to dominate Tony Ferguson, who is such a good fighter in his own right, yeah, he's just super impressive."
Potential McGregor Fight
While Gaethje is the favourite to challenge Oliveira next, the possibility of McGregor jumping the line for a title shot can't be ruled out either. Penn said that if he was 'Do Bronx', he'd take the red panty night over a fight against 'The Highlight'.
"You know it might not be the most popular opinion, but if I'm Charles Oliveira, I am fighting Conor McGregor next," Penn said. "For the simple reason, who knows how much longer Conor will be around for, right? Strike while the iron is hot. Oliveira's on a crazy win streak and has the most submissions in history, he can call for this fight."
Oliveira recently took to Twitter to dub Penn the GOAT. The Hawaiian shared a meme in response, suggesting that the Brazilian was in the same league as him.
Do you agree with BJ Penn that Charles Oliveira has the potential to become the most successful lightweight champion in UFC history?
See also: