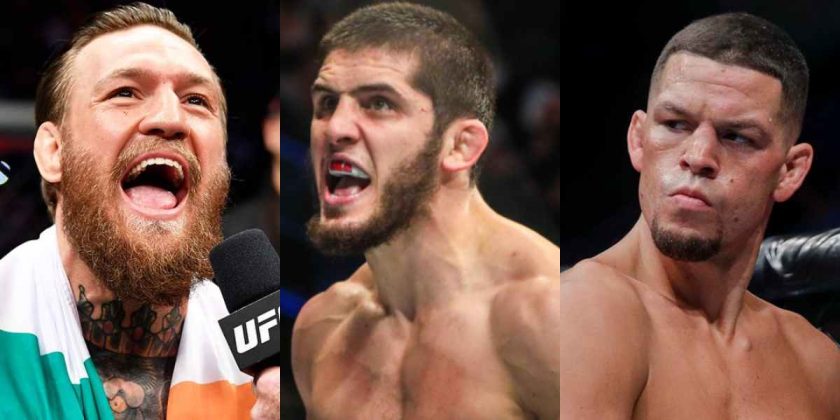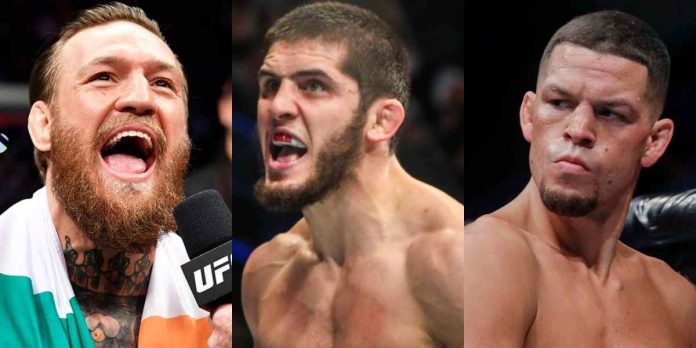 After a quiet few weeks on social media, Conor McGregor is at it again and has fired shots at Islam Makhachev and Nate Diaz.
McGregor is coming off back-to-back defeats at the hands of Dustin Poirier at UFC 257, and UFC 262, where he lost by a doctor's stoppage after breaking his tibia. The Irishman is looking to make his return from injury this summer and is eyeing an immediate title shot, but he is keeping his options open and wouldn't mind throwing hands with Makhachev and Diaz.
In a series of tweets, McGregor unloaded on Makhachev, saying that he wasn't impressed with his performance at UFC Vegas 49, where the Dagestani stopped Bobby Green in the first round. The Dublin native was also not impressed with the Russian allegedly backing out of a possible fight against Rafael dos Anjos at UFC 272, after initially accepting it on short notice on Twitter.
"I'll fight that shit stain makchavich, no sweat. Embarrassing GNP the other night IMO. Pitiful punching. And then bottles the RDA fight after mouthing off to him lol. Embarrassing. Watch when I come back. Same as before. Anyone. Any weight. Anywhere. Game full of shit stains," McGregor tweeted.
"Full mount GNP and the guy bounces up not a scratch, hugging and kissing. Talkin about thanks for the match etc. If that's me there's holes left in their head like they've been smacked with a sock full of golf balls. Don't even know where they are. Caramel butter skin strikes again," McGregor said in another tweet.
While Makhachev hasn't responded to McGregor yet, his manager Ali Abdelaziz quickly fired back, saying that his client would submit him within one round.
McGregor then turned his attention towards Nate Diaz.
Diaz was quick to respond, reminding McGregor of the outcome of their first fight, which the Stockton native won by second round submission.
Islam Makhachev or Nate Diaz, who do you think Conor McGregor should fight next?
See also: