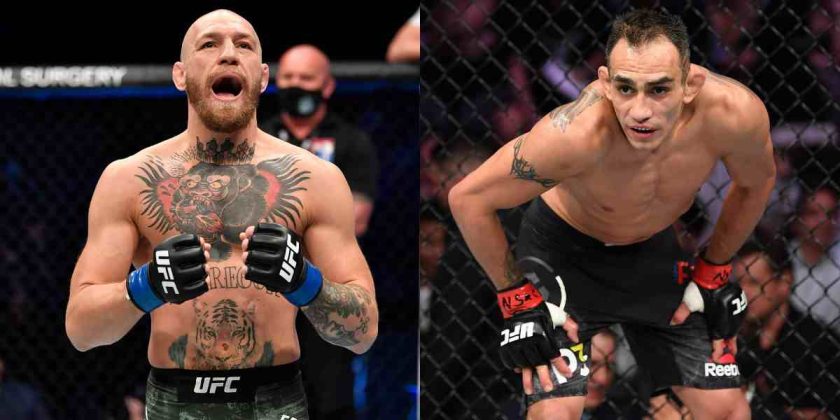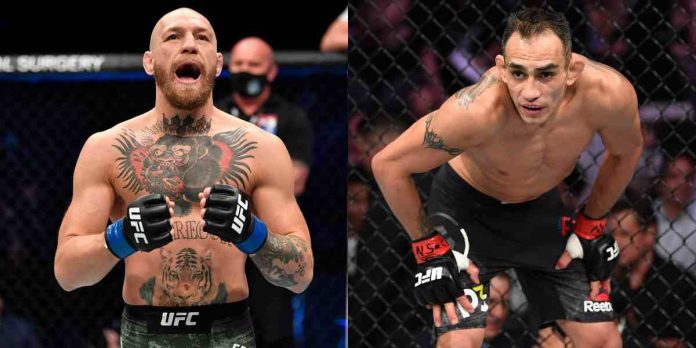 Conor McGregor has fired back at Tony Ferguson for accusing him of using human growth hormone after he tweeted about bulking up during his time out due to injury.
Ferguson hasn't fought since his decision loss to Beneil Dariush at UFC 262, while McGregor is also coming off a defeat in his trilogy against Dustin Poirier at UFC 264, where he lost by a doctor's stoppage due to a broken tibia.
McGregor, who has been spending his recovery time doing weight training, has warned his counterparts that he will come back with a lot more power than usual. Ferguson, however, believes that 'The Notorious' is taking growth hormones.
"Taking growth hormone will do that to someone's build. You're mentally weak and your leg is compromised. You're fragile, frail, and breakable. That GH gonna make you break kid. Keep pumpin' ya chest ya cheat. Not the first time God punished you. You like picking on people and DJs? WTF p****," Ferguson tweeted.
McGregor was quick to fire back, warning Ferguson that he would leak a video of his wife. The tweet was later deleted.
"Omg, god bless you kid. Mental basket sad case. I am going to share your scared wife's video that was sent to us of you screaming crying as you smash your house up. What a sad bastard u are. No brains. Empty head. Losing streak. No management. Wife sending us videos in fear," McGregor said.
The Dublin native also made fun of Ferguson's decision to part ways with Paradigm Sports Management, the company that manages McGregor, to join Ballengee Group.
"Tony was duped into signing with another agency on the premise he would receive a pro Baseball contract hahahaha. A pro fucking baseball contract now he's in legal turmoil with this crowd ahahahah. No shit Jose Canseco, what did you f***ing think would happen empty head," McGregor said.
Would you be interested in a potential fight between Conor McGregor and Tony Ferguson?
See also: