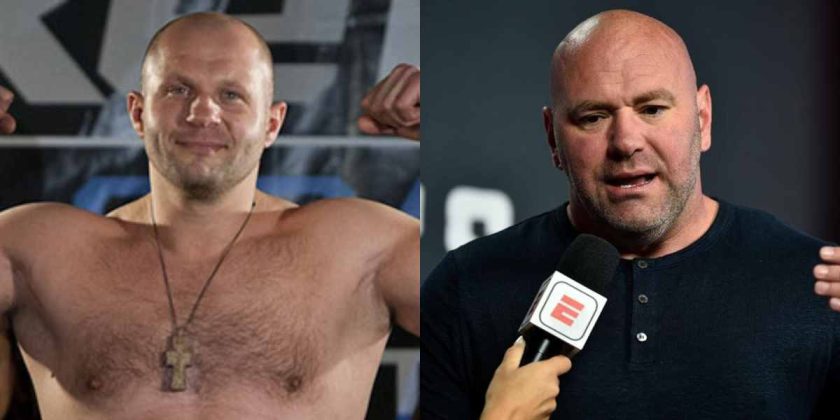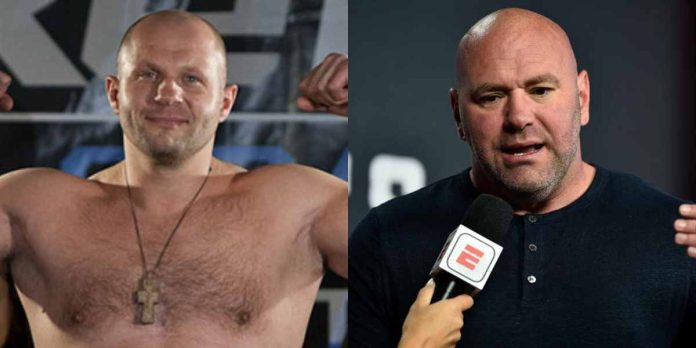 Fedor Emelianenko has criticised Dana White for showing no respect to fighters and prioritising money over human relations.
Emelianenko is widely regarded as the greatest heavyweight of all time, who competed in PRIDE and Strikeforce, and now fights in Bellator. The Russian never signed with the UFC, however, but managed to defeat seven former UFC champions during his run with other promotions.
Given his stature, Dana was 'obsessed' with the idea of signing 'The Last Emperor'. The UFC president offered him a contract worth under $2million per fight in 2009, with an immediate title shot against the then champion, Brock Lesnar but the talks broke down.
Fedor Emelianenko On Dana White
Speaking to TASS ahead of his fight with Tim Johnson at Bellator 269, Emelianenko revealed that he didn't sign with the UFC in part because he had a 'very unfavourable impression' of Dana.
"A very unfavourable impression. Money means everything to him, he has no respect towards fighters, no respect for any human being. Only money and that's all," Emelianenko said. "There is nothing humane about him and I found that quite revolting. Money, of course, is important for living and for the family. But trading human relations for money is unacceptable."
In 2020, Dana said that the only fight he ever regretted not making was Lesnar versus Emelianenko.
"The only fight that I wanted to make that was never made was Brock Lesnar vs Fedor Emelianenko," Dana said. "We were going to do it at Texas Stadium. But I couldn't get a deal done with Fedor, so it never happened."
Emelianenko last fought at Bellator 237, where he finished 'Rampage' Jackson in the first round.
Do you agree with Fedor Emelianenko?
See also: