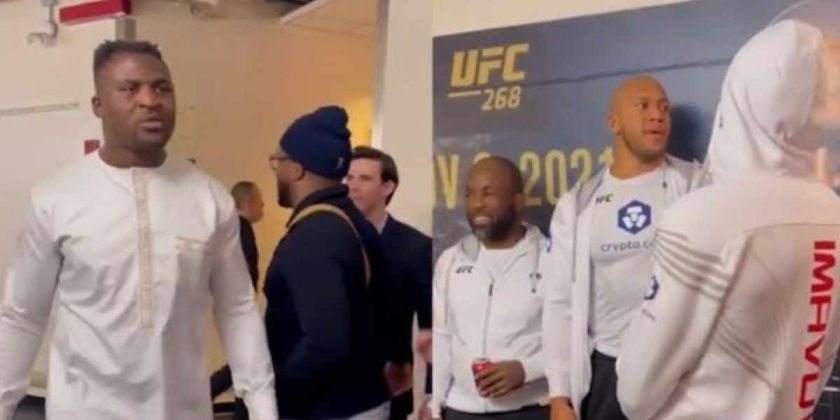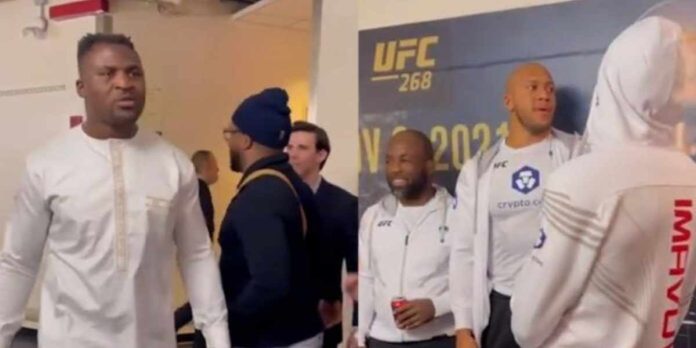 Ciryl Gane has given his thoughts on UFC heavyweight champion Francis Ngannou's backstage snub during UFC 268 in November last year.
Ngannou, who is set to face Gane in their title unification bout at UFC 270 this month, deliberately ignored the Frenchman, UFC middleweight Nassourdine Imavov and former coach Fernand Lopez, when they crossed paths backstage during UFC 268. The Cameroonian's snub wasn't surprising, however, because of his sour relationship with Lopez, who released sparring footage of the two heavyweights last year, which 'The Predator' claims was edited to make him look bad.
Gane Reacts To Ngannou's Snub
Speaking on MMA Fighting's The MMA Hour, Gane said that Ngannou's behaviour was uncalled for despite his differences with Lopez.
"This is wrong," Gane said. "For me, it was wrong. That's it. For me, I don't know, it was just for Fernand Lopez. But it was a little bit [of] shame, because you have your future opponent, you have your former sparring partner, [and] also Nassourdine Imamov.
"Nassourdine Imamov did a lot of sparring for Francis Ngannou, maybe the biggest sparring he had in his career. So that's why we were a little bit ashamed. He just won his fight in Madison Square Garden. That's why it was a little bit shame, that's why it was a little bit wrong for me."
'Ngannou Fight Is Different'
Gane is undefeated in his seven UFC fights, with his most recent win coming against Derrick Lewis in their interim heavyweight title fight at UFC 265. Compared to his previous bouts, 'Bon Gamin' admitted that his fight against Ngannou has a different aura to it.
"It's different, but not because it's Francis — but because he's the champion right now," Gane said. "And the champion is a really great fighter, who has a lot of strength, and this is the final boss to my video game. But like every time, if I make a mistake, it's going to be OK. If I lose, I'm really OK with that. Like every fight in my career went like that. But at this time, yes, I want to do the last step. That's why it's a little bit different."
Who do you think will win the heavyweight title unification bout between Francis Ngannou and Ciryl Gane at UFC 270?
See also: