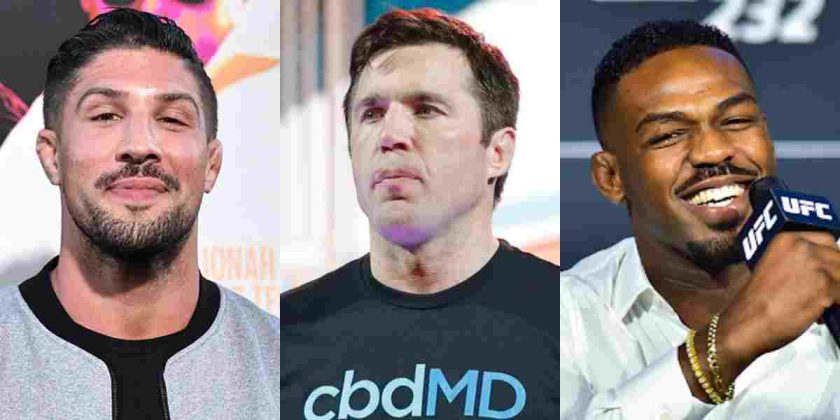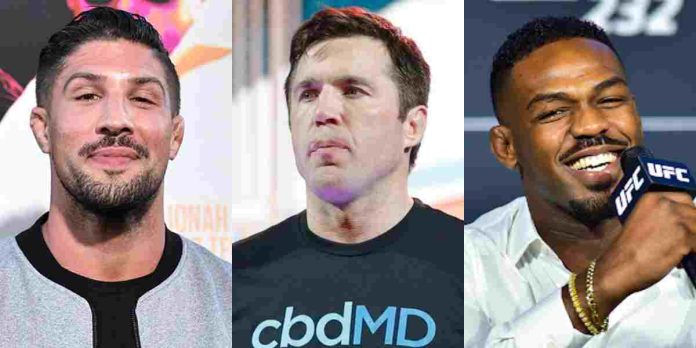 Brendan Schaub has come to Chael Sonnen's defence after Jon Jones criticised him over his detention with five battery citations.
According to police, Sonnen committed a misdemeanor battery against five different individuals this past Saturday inside the Luxor Hotel and Casino in Las Vegas, contradicting the initial report that the altercation took place at the Four Seasons. While full details of the incident haven't been made public yet, Las Vegas Police public information officer Larry Hadfield sent out a brief statement.
"Sonnen was issued a battery citation for each individual victim, then escorted off the property. Due to the fact the misdemeanors were committed outside of a police officer's presence, an arrest was not conducted," the statement said.
A day after the incident, Jones took to Twitter and gave a mixed reaction about his former opponent's detention, offering his best wishes, but also criticising him indirectly.
Jones' tweets were in response to Sonnen criticising him when he was arrested on charges of misdemeanor domestic violence and damaging a vehicle in August. Many netizens defended 'The American Gangster', reminding 'Bones' of all the controversial things he has done in the past.
Schaub Defends Sonnen
Speaking on his 'Below The Belt' podcast, Schaub also defended Sonnen amidst criticism from Jones.
"So I think by Chael doing this, it just adds to the legend of Chael Sonnen," Schaub said. "He was protecting his girl. And for that dumbass who got absolutely annihilated by the great Chael Sonnen, you deserved it man. And that's what you get.
"So you play stupid games, win stupid prizes. This is not a case of Chael hitting his wife like Jon [Jones] did. I think they dropped the charges. This is not a case of Chael Sonnen being high and wrecking his Bentley with strippers in the car. This is not the case of Chael domestic violence in any facet. And I think everyone should hold their judgment to get more details."
Schaub Claims Chael Was Protecting His Wife
Schaub also claimed that Chael's recent incident stemmed from his wife being harassed.
"Here's what happened, is Chael was obviously working and he was with his wife and his wife is a f***ing saint and also a dime piece," Schaub said. "And some drunk guy with his girl kept making comments about his wife, saying about her t**s, her ass, right in front of him. Well, play stupid games, win stupid prizes, cause you are talking and disrespecting one of the toughest guys on the planet and definitely one of the toughest ever to compete in the UFC or Bellator for that matter. And you're doing it in front of his face, then there's gonna be repercussions. And any guy that wanted to do that for their girl/ladies you got a girlfriend."
Jones hasn't fought since his light heavyweight title fight against Dominick Reyes in February 2020 at UFC 247, which he won by a controversial unanimous decision. He vacated the title a few months later in August, and is now eyeing a move up to heavyweight.
Do you agree with Brendan Schaub's comments on Chael Sonnen and Jon Jones?
See also: