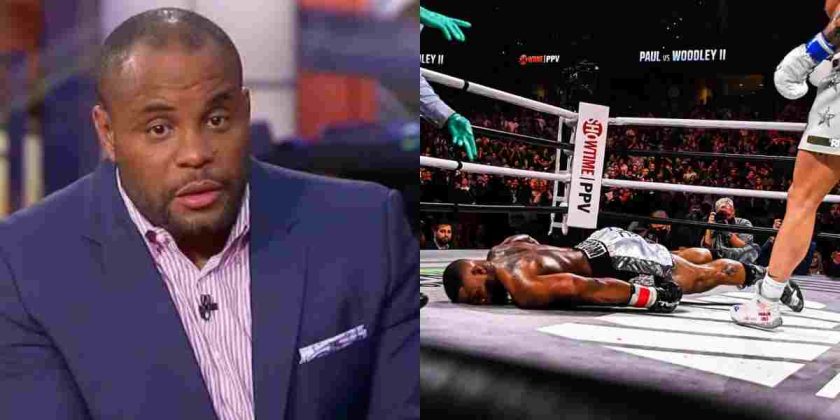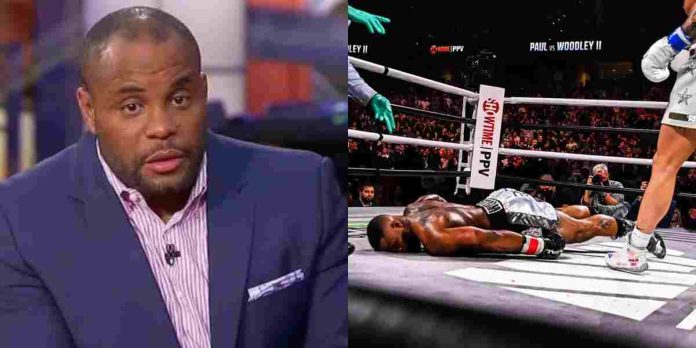 Daniel Cormier has said that he's disappointed with Tyron Woodley making fun of himself on social media through a meme contest.
Woodley was brutally knocked out in the sixth round of his boxing rematch with Jake Paul this past weekend, and this week, 'T-Wood' held a contest to see who could create the best meme of his brutal knockout loss, with the winner being given $5000.
'It's Bad'
Speaking on his 'DC and RC show' on ESPN (as transcribed by MMA Mania), Cormier said that he was disappointed to see Woodley making fun of himself.
"T-Wood's my boy, I love T-Wood," Cormier said. "That was not good, that's a bad look. And you know what's worse? The after. I don't know what T-Wood's doing on social media. He posts the knockout, he makes a contest about it—It's like Jake Paul is beating these dudes so bad that they start to make fun of themselves.
"My biggest issue is these guys go in there to fight this dude, they lose to him. Ben Askren was immediately almost making fun of himself. It's almost like you're so embarrassed that you lost to the Disney kid or the YouTuber that you start to almost become self-depreciating [sic]. It's bad. It's bad what's happening to these dudes."
Jake Paul's Skillset
While he was unhappy with Woodley's behaviour, Cormier said that Paul deserves a lot of respect for proving his worth time and again.
"This is the problem with those guys going to fight Jake Paul because look at what happens," Cormier said. "I'm watching the fight on Saturday — streaming the fight on my phone — and Tyron's in there kind of doing his thing and then Jake Paul starts to build some momentum.
"Bro, that right hand that he hit Tyron with it was actually pretty slick because what he did was he feinted at him. He feinted at T-Wood, T-Wood dropped his hand, so that when he threw the second one and the hand dropped it wasn't an overhand right, it was a hook. That's how you know he got the brother, because T-Wood said, 'He got me with the overhand right.' He don't even know what got him."
Do you agree with Daniel Cormier?
See also: