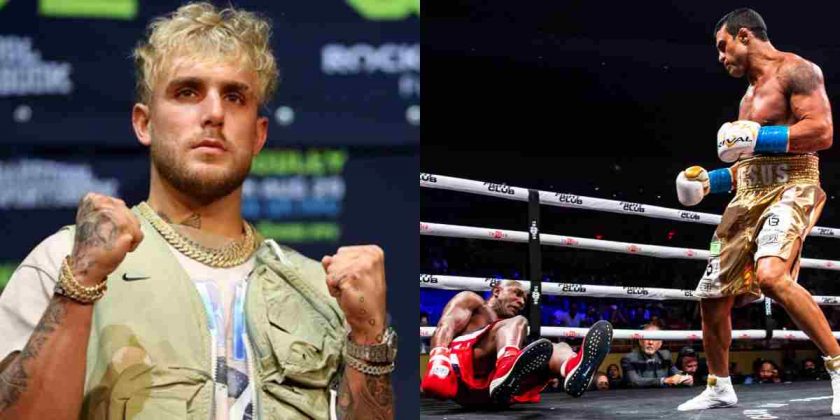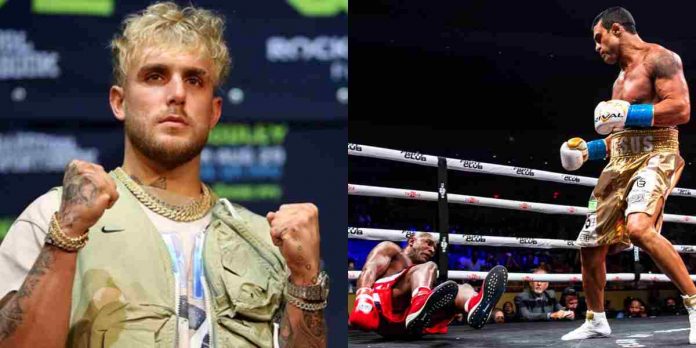 Jake Paul believes UFC and MMA legend Vitor Belfort disrespected the sport of boxing by beating up Evander Holyfield.
Belfort was too fast and strong for Holyfield in their Triller Fight Club main event earlier this month, stopping him in less than two minutes as the 58 year old showed no resistance to his foe's vicious barrage of punches.
The bout has drawn mixed reactions, with many backing Holyfield's decision to step in on short notice to replace Oscar De La Hoya, who was originally booked to fight Belfort. However, many, including Paul, believe that the fight should never have happened.
'It Was Sad To See'
Speaking to Ariel Helwani on The MMA Hour (as transcribed by BJPenn.com), Paul said that the boxing match between Belfort and Holyfield was sad to see.
"Look, Vitor beat up an old man. He disrespected the sport of boxing in my opinion," Paul said. "Holyfield is a legend, but he shouldn't be fighting somebody that's in their early forties. It should be Mike Tyson vs Holyfield or something like that. It was just sad to see, the whole entire thing. I mean, it's a bit ridiculous. I mean, there's better people out there. I mean, like you were saying, Vitor is not that big of a name."
Potential Belfort Fight
Belfort has challenged Paul to a $30 million 'winner-takes-all' matchup under the Triller banner, but Paul said that he's not interested because he has better options.
"He's not even as big of a name as Tyron," Paul said. "So I'm trying to get bigger with each one of these fights. I'm trying to have more of a challenge. And I think Vitor is a lot easier of a fight than Tyron. He's older, he's on steroids, and such. But that doesn't really excite me that much. The money excites me. If they would put the money into a bank account, an escrow account and show proof, then maybe that's where the conversation could start. But it's not as big of a fight as the 10 other people that are calling me out or that even we're already talking to."
Would you like to see a potential boxing match between Jake Paul and Vitor Belfort?
See also: