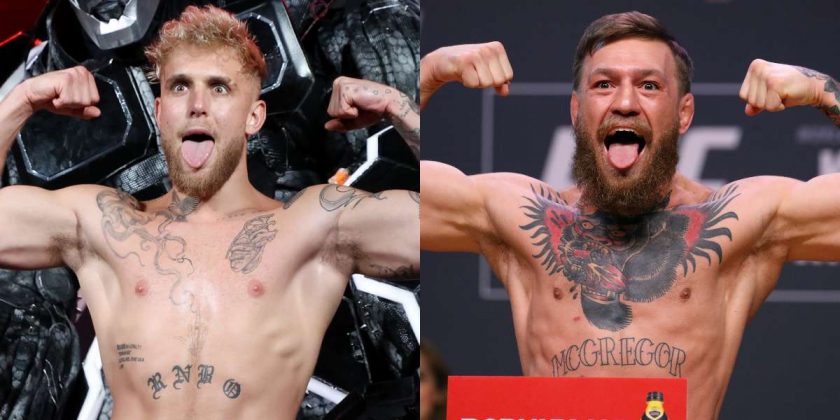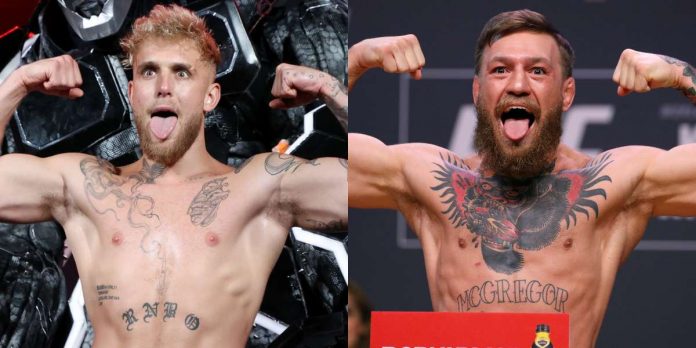 YouTuber turned boxer Jake Paul has fired shots at former UFC two division champion Conor McGregor for his 'dumb' trash talking.
McGregor has been facing a lot of criticism lately for his trash talking, which many believe is crossing the limits, and seems unnatural and forced.
In his post-fight interview after his loss to Dustin Poirier in their trilogy at UFC 264, 'The Notorious' threatened to kill his arch-rival and his wife in their sleep. He has also aimed crude barbs at Khabib Nurmagomedov and Daniel Cormier in recent weeks.
'It's Over For McGregor'
Speaking to MMA Junkie, Paul said that although he understands the showmanship aspect of the fight game, McGregor has been going overboard with his antics recently.
"Look, he's this guy that was the s*** for so long and the center of attention, and now his career has plummeted," Paul said. "He's falling off. He's 1-3 in five years and it seems as if people don't really care. He's disrespectful. Even to the point where it's too far. There's a point in this where it's like, 'Cool, yeah. It's the fight game. I said what I said. Get over it.' Talk as much s*** as you want. But there's a point where you look dumb."
Paul believes McGregor is past his prime and he's saying 'dumb' things because he's in a state of denial.
"It's not even that he's being disrespectful, he just looks dumb with the s*** that he's saying," Paul said. "Threatening to kill people and then he's out partying, back to drinking, hitting the clubs in L.A. I don't know, man. I think it's over for him and I don't think his ego can maybe accept that."
More Interested In Nate Diaz
Not only have McGregor's recent defeats cost him a lucrative boxing match with Manny Pacquiao, but Paul also seems to have lost interest in the Irishman, as he thinks a showdown with Nate Diaz would be a lot more interesting now.
"I think Nate Diaz versus Jake Paul fight is probably more interesting than a Jake Paul versus drunk Conor McGregor fight," Paul said.
Paul is scheduled to face former UFC welterweight champion Tyron Woodley in a professional boxing match on August 28th.
Do you agree with Jake Paul that Conor McGregor's time as a top athlete has come to an end?
See also: