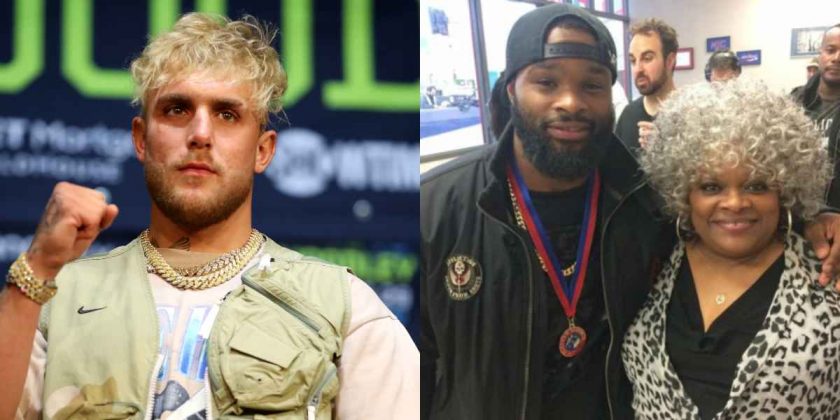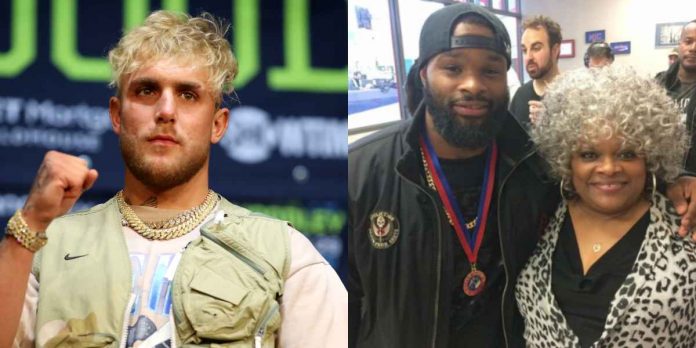 Tensions between Jake Paul and Tyron Woodley reached a new high after their team members got into a war of words at the pre-fight press conference on Thursday.
While Paul and Woodley faced off after the press conference, a member of the YouTuber's team started chirping at the former UFC champion's mother Deborah (otherwise known as 'Mama Woodley'), leading to an altercation between the two teams. Luckily, cooler heads prevailed to prevent things from getting worse.
'We're Not Sorry'
Speaking to MMA Junkie, Paul said that he's not sorry for his team's antics, but believes that it shouldn't have happened.
"Hell no – we're not sorry," Paul said. "We're not sorry at all. Should we not have done it? Maybe. But we're not sorry. Of course [I didn't want it to happen]. This is Women's Equality Day. If it was literally anything else, I'm just sitting there talking about how much I love my mom, how much I love my girlfriend, and of course, there has to be an altercation involving females. It sucks. Just everything about it just looks messy.
"We're trying to have a professional event here, and now things are more personal. Probably going to need more security at all these places. Things just aren't cordial anymore. Tensions will definitely be higher going into this fight."
Paul and Woodley will square off in their professional boxing match on Sunday. 'The Problem Child' is a 3-0 pro boxer, with his most recent win coming against Ben Askren by first round stoppage. 'T-Wood', who will make his pro boxing debut, said that the altercation will not provide added motivation to get the win come fight night.
Mama Woodley is widely respected by the MMA community because of her kind and compassionate personality. Here's how the MMA community reacted to Team Paul's antics.
Jake Paul or Tyron Woodley, who do you think gets his hand raised on Sunday?
See also: