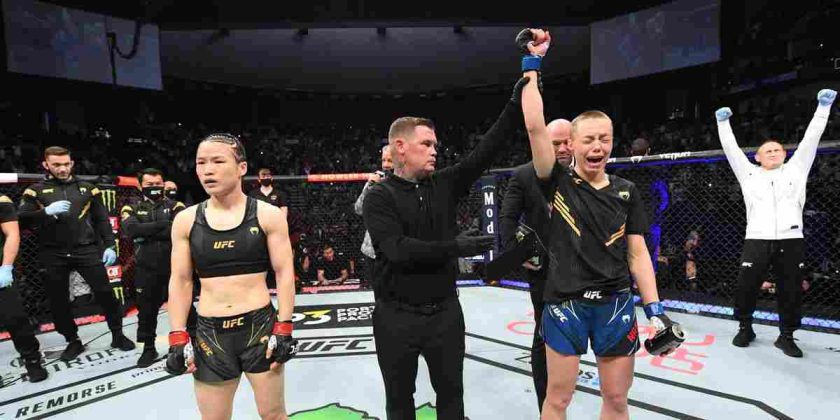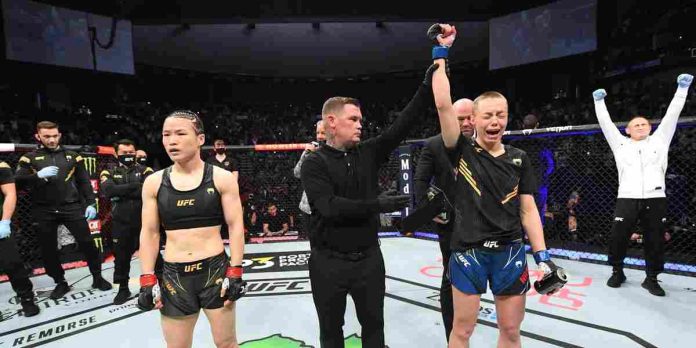 Zhang Weili believes Rose Namajunas crossed the line when she made her 'better red than dead' remarks ahead of their first fight at UFC 261, which 'Thug' Rose won by first round knockout.
The reigning champion, who is of Lithuanian descent, stated how her ancestors suffered under the rule of the communist Soviet Union following World War II, which is why she felt extra motivated to beat Zhang. The Wisconsin native stood by her comments despite heavy criticism.
Namajunas Crossed The Line
Ahead of their title rematch at UFC 268, Zhang told MMA Fighting's The MMA Hour that Namajunas crossed the line with her comments.
"In my mind, yes I think that those comments crossed the line because I think all the audience, all the fighters, we all come together in the UFC because we all share the passion of MMA," Zhang said via a Mandarin translator. "In my mind, I'm coming here because I want to make friends because we all have the common love of martial arts.
"I think it's not a good thing to mix sports with politics. But I think that's maybe her plan. So in the beginning, I thought it's just kind of trash talk and it really didn't affect me but when I go out to the stadium, I got booed, I think maybe Rose wanted to make those comments just to make the audience boo me."
Zhang continued by saying that Namajunas' statements worked wonders as she was able to turn the crowd at the VyStar Veterans Memorial Arena in Jacksonville, Florida against her.
"I think the comments that Rose made, she was successful in making the audience bully me," Zhang said. "But again I think that is my own problem because I should concentrate on the fight and not on the audience because I can't control who the audience likes. I'm becoming more focused on my own fight."
Namajunas Rematch
With that being said, Zhang is grateful to the UFC and Namajunas for the rematch, and she expects a competitive fight this time around.
"Maybe there's still a lot of people who still want to see a real fight between me and Rose," Zhang said. "Because last time the fight did not even start. I'm not really surprised because after the fight I made a statement on social media that I want a rematch and I believe that there's a lot of the audience that wants to see a rematch. I really appreciate the UFC giving me this opportunity and also Rose for taking this fight."
Do you agree with Zhang Weili that Rose Namajunas crossed the line with her 'better dead than red' remarks?
See also: