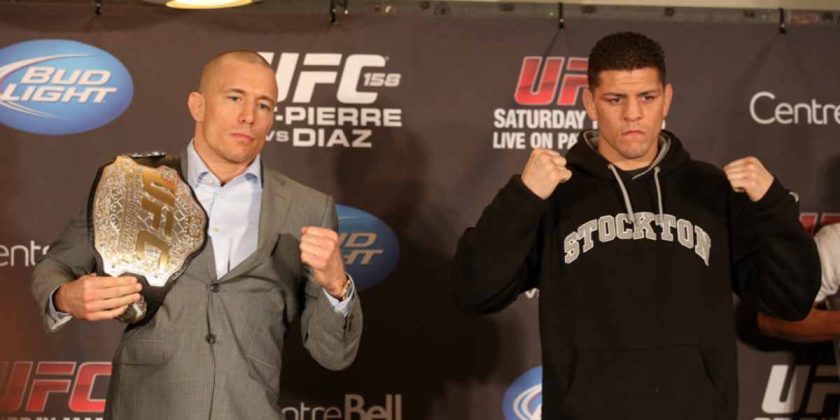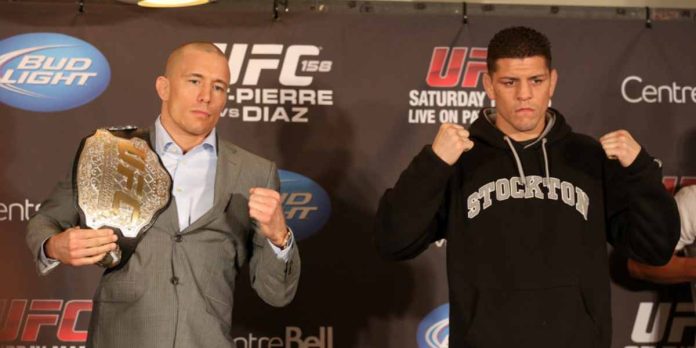 Former two-division UFC champion Georges St-Pierre has given his thoughts on Nick Diaz's performance against Robbie Lawler at UFC 266.
Diaz's five round fight against Lawler at UFC 266, which he lost in the third round after he wasn't able to continue, was his first since his unanimous decision loss to Anderson Silva in 2015, which was later ruled a no-contest after the Brazilian tested positive for PEDs. The Stockton native also failed a post-fight drug test for marijuana and was handed a five-year ban, which was later reduced to 18 months after he appealed against it.
GSP On Nick Diaz
Speaking to Yahoo! Sports, St-Pierre said that he though that Diaz looked rusty against Lawler.
"It was a tough night for him because he came back after six or seven years," St-Pierre said. "It was a long, long time. Nobody can come back as good as they were before, after that much time. I'm under the impression that Nick left a lot of money on the table, unfortunately for him, because maybe his best years are behind him. For sure he was rusty."
Although GSP believes Diaz's best years are behind him, he said that his one-time opponent can bounce back from his most recent setback if he wants to.
"Maybe we haven't seen the best out of him yet," St-Pierre said. "Maybe he's gonna come back and get better. I fought after more than four years, I can tell you it's very hard. There are a lot of things that you cannot do in training. You cannot replicate in training what happens in a fight. The only way to get it back is through the experience of real competition and I think he can be better than he was. I think he can come back better if he wants to."
St-Pierre isn't the only one who thinks Diaz looked rusty against Lawler, Joe Rogan also believes that he should have taken more time to prepare for his UFC 266 bout.
Do you agree with Georges St-Pierre?
See also: