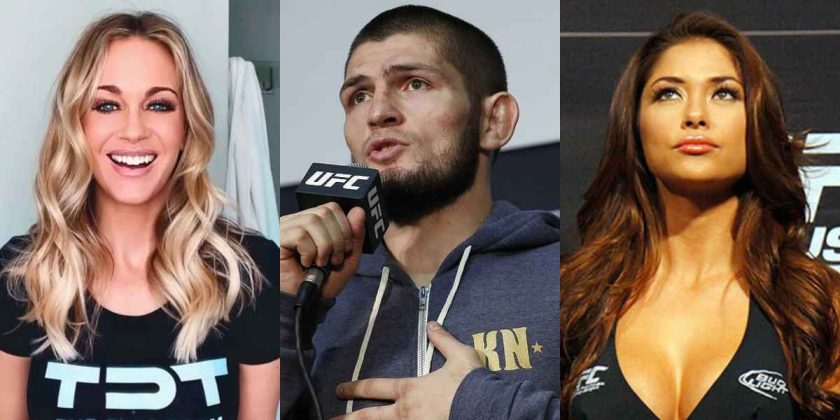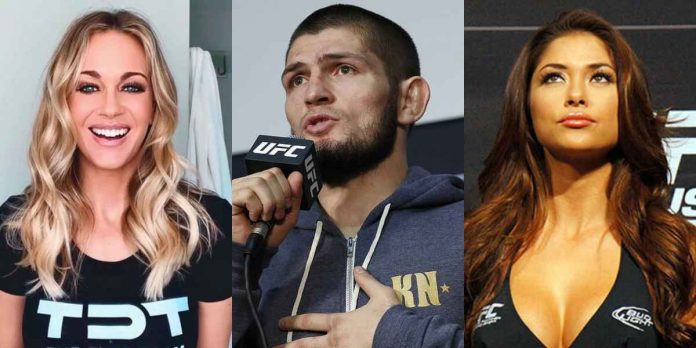 Laura Sanko has defended former UFC lightweight champion Khabib Nurmagomedov's recent comments on ring girls in the sport of MMA.
Speaking to the media earlier this month in Russia, Khabib said that he would not employ ring girls in his promotion, Eagle Fighting Championship, because they are "unnecessary" and "useless". 'The Eagle' has drawn a lot of criticism due to his comments, with UFC ring girls Arianny Celeste and Brittney Palmer firing back at him.
Palmer quote tweeted Conor McGregor, who posted a meme poking fun at the Dagestani, while Arianny lashed out at Khabib saying that "you don't have to like me, but you will respect me".
'It's A Valid Opinion For Him To Have'
Speaking to James Lynch, Sanko said that Khabib has the right to give his thoughts about the concept of ring girls, as long as he doesn't target anyone specifically.
"I think we have to accept that it is a very valid opinion for him to have," Sanko said. "It's his personal opinion and he was talking about why he's not going to have them at his promotion which is certainly within his right to do so. I think right now everybody, I feel like is finding reasons to get their feelings hurt.
"If he had specifically attacked our ring card girls or any ring card girl by name, I definitely would jump to their defence. I think it's more the idea for him is just not something culturally that he finds valid. I respect that about him and I think he's perfectly fine and within his rights to talk about that."
'Khabib Respects Women'
Sanko also dismissed the idea that Khabib doesn't respect women.
"I will say this, I don't appreciate the line of thinking that he doesn't respect women," Sanko said. "I think that when you haven't grown up in a Muslim culture the respect for women looks different I think than maybe our American eyes expect it to. I know he has a lot of respect for the women that he trains with. I know he has a lot of respect for other women champions like Valentina [Shevchenko] and the others. I've seen him interact with other women that are managed by Ali [Abdelaziz], so like it's not as though he doesn't respect women. I just think the culture that he grew up in, he respects women so much that he wants them to be presented in a certain way."
Khabib Nurmagomedov retired from MMA after successfully defending his title by finishing Justin Gaethje via second round submission at UFC 254.
Do you agree with Laura Sanko?
See also: