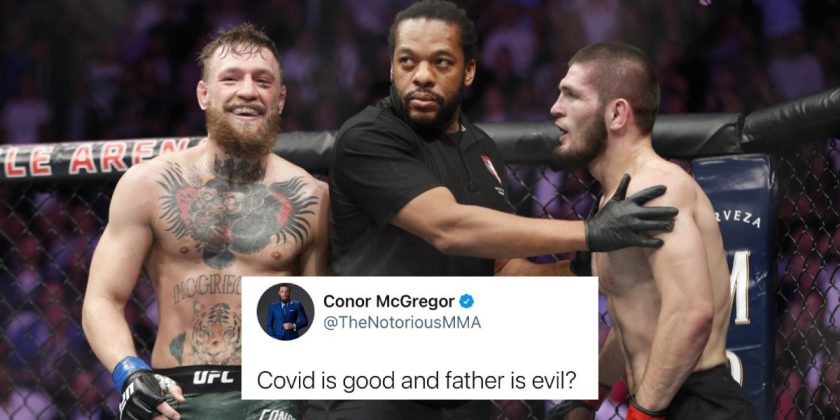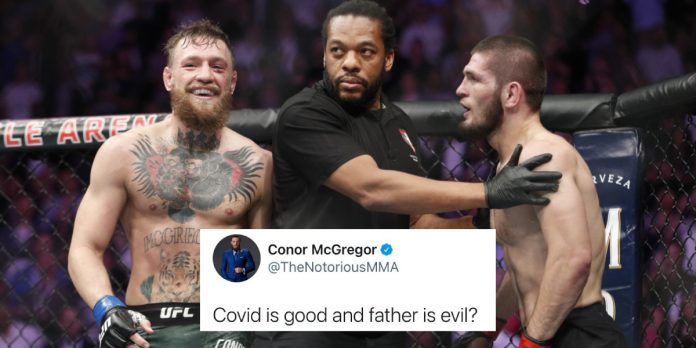 Former UFC lightweight champion Khabib Nurmagomedov has responded to Conor McGregor's crass tweet about his father, Abdulmanap Nurmagomedov, who passed away due to COVID-related complications in July of last year.
Taking to social media after the UFC 264 trilogy between Dustin Poirier and McGregor, Khabib congratulated his UFC 242 opponent for his victory, and took a jab at the Irishman by tweeting "Good always defeats evil".
A couple of weeks later, McGregor responded by attacking Khabib's dead father in a since-deleted tweet that said "Covid is good and father is evil?".
'He Had Drunk Too Much'
Speaking on Mike Tyson's HotBoxin' podcast (as transcribed by MMA Fighting), Khabib suggested that 'evil' McGregor made those comments while he was drunk.
"When he talked about this, only evil can talk about your father, like wife, kids, religion," Khabib said. "If you're a normal human, you're never going to talk about this stuff.
"For me, I think he posted this tweet [when he had] drunk too much or [had done] something. He always delete these tweets. When he become normal, [he looked at his phone] and said, 'Oh, what I did.' Then he delete. This is my opinion, what he does all the time."
'He's A Dirty Person'
Needless to say, Khabib believes that there are some lines one should never cross, even if it's for the sake of showmanship.
"When someone is not with us, he is not even alive, this shows you what you have inside, this shows, like, how dirty you are," Khabib said. "When you are one of the best in the world, and you come and you punch someone like 70 years old, like an old man [in a pub], this shows your heart. This shows who you are inside, how dirty you are. When you have parents and you have kids, how can you show yourself like this? I don't understand why his close people don't tell him, 'Hey, what's going on?'"
'He's Surrounded By Fake People'
McGregor is the biggest star in mixed martial arts today, but Khabib believes his overwhelming success has also come at a cost.
"When you become rich, when you become famous, some people, they lose real people around them," Khabib said. "They lose them. Because real people who love you, they're going to tell you the truth. But fake people? They always say, 'You're good. You're good. You're good.' They never say to you nothing, because they don't want to upset you, because they know they'll lose this comfortable spot.
"Real people, they don't care about this. They were with you before you became famous and rich, and they don't care about your money, they don't care about your fame. They just love you. And when they say to you the truth, you don't like this because of your ego. I think he lost a lot of people around him. I don't think he has people who were with him before when he became champion. Everybody needs someone who reminds you, 'Hey you're doing this, this is bad, this is good.' This is life."
Mental Strength
In the lead-up to their title fight at UFC 229, McGregor's trash talking concerned Khabib's coach Javier Mendez, who was worried about his fighter's mental state going into the fight, but the Dagestani said that his arch-rival's comments didn't have any effect on him.
"I remember when I was supposed to fight with him, coach told me, 'Hey, you have to focus,'" Khabib said. "And I was like, 'I am focused.' He was like, 'You call home? You call friends?' No, this is normal for me. I said, 'Coach, please, don't worry. Everything is good. I am good, I'm relaxed, and when the time comes, I'm going to show you.'"
McGregor failed to get under Khabib's skin, thanks to his mental strength, which he said is one of the major reasons why he reigned supreme in the UFC.
"I think one of the biggest reasons why I became champion, I think this was about my mental part, how I can control my emotions," Khabib said. "I think I can control anything. Anything happens with me in the world, I can control this. I can handle this."
Do you agree with Khabib Nurmagomedov?
See also: