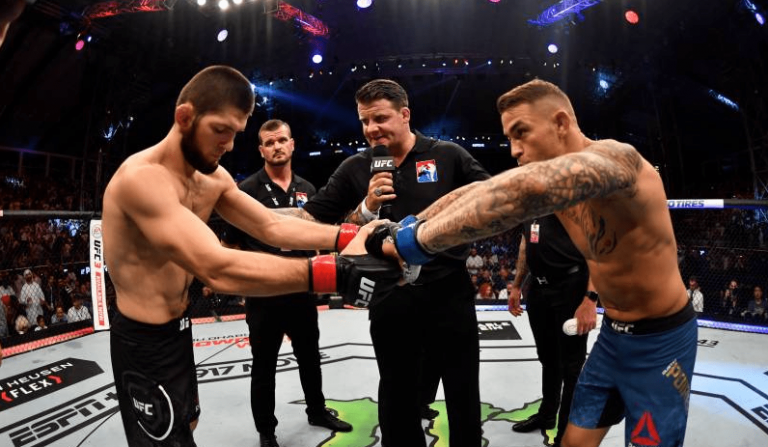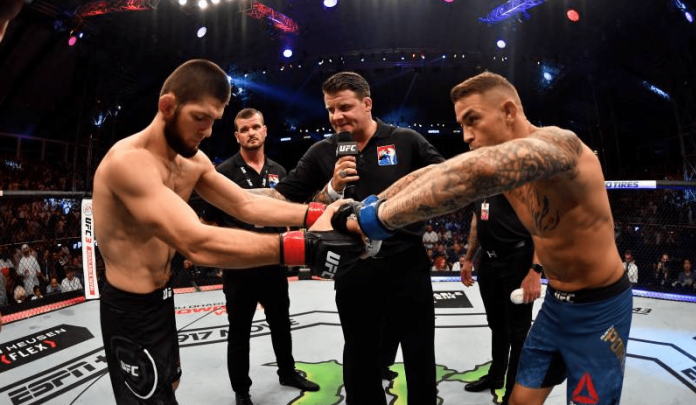 Dustin Poirier has given his thoughts on former UFC lightweight champion Khabib Nurmagomedov's grappling skill set, which he has been singing the praises of once again.
Poirier faced Khabib in their title unifier at UFC 242 in 2019, where he was submitted in the third round after being dominated for the majority of the fight. The Dagestani fought one more time after his fight with Poirier, announcing his retirement at 29-0 after successfully defending his title against Justin Gaethje at UFC 254 last October.
'He's So Advanced'
'The Eagle's' strength is often credited for being one of the biggest factors in his illustrious career. Speaking on the 'Punchin' In' podcast however, Poirier said that Khabib's dominant run in the UFC had more to do with his understanding of position and balance than his strength.
"No. I mean, [Khabib was] more [exceptional than expected]," Poirier said. "Yeah, more… Not super-strong. None of these guys I have fought feel crazy strong towards overwhelming. But, it's just that his position and his balance were so good. He knew where my weight was, where he needed to get in a better position. He's just, so advanced."
Poirier also pinpointed Khabib's ability to use his foot sweeps and leg locks to maintain his stranglehold over his opponents, which he said was another reason why he still holds a perfect record.
"His feet are like hands," Poirier said. "Like, his foot sweeps and the way he breaks you down, it's a good man. He's good. So good."
Poirier faced Conor McGregor in their rubber match at UFC 264 earlier this month, where he won by a doctor's stoppage after the Irishman was unable to continue due to a broken tibia. He is expected to face reigning champion Charles Oliveira next.
Do you agree with Dustin Poirier's assessment of Khabib Nurmagomedov's grappling prowess?
See also: