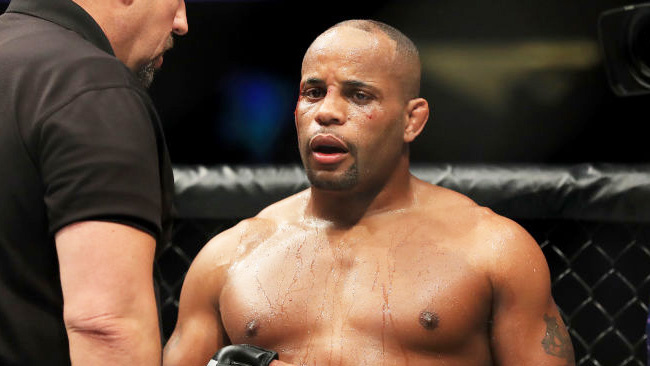 Former two-division UFC champion Daniel Cormier has given his thoughts on Conor McGregor's horrific deleted tweet about Khabib Nurmagomedov's father, Abdulmanap Nurmagomedov, who died of COVID-related complications last July.
Congratulating Dustin Poirier for his win over McGregor in their rubber match at UFC 264, Khabib tweeted that "Good always defeats evil". Later in an interview, Khabib said that the Irishman's leg injury was God's way of punishing him for all the horrible things he had said about 'The Diamond' and his wife, Jolie Poirier.
McGregor clapped back in the most classless of ways possible, attacking Khabib's dead father in a since-deleted tweet that said "Covid is good and father is evil?".
"Way Too Far"
Speaking on his ESPN show with co-host Ryan Clark (as transcribed by MMA Fighting), Cormier said that he fails to understand how McGregor still has a huge following considering his brash behaviour.
"I get shock value and I get trying to get people to talk but way too far," Cormier said. "To the point that I immediately called Khabib last night and said, 'Are you OK?' Asking him if he's OK after having to see that, especially with no ability to do anything about it again. He spoke to my kids at my wrestling program the other day and said he was never happier than when he got to fight McGregor on the day. Because for so long, he wanted to get his hands on Conor and beat Conor up.
"Well, he can't do that no more cause he's not a prizefighter anymore. So now he just has to kind of swallow that. Way too far. Honestly, when Conor does stuff like that, it's hard to understand how there's still this mass amount of people that support that type of behavior."
He Has Crossed The Line
With his usual trash-talking failing to deliver, McGregor has consistently resorted to attacking his opponents' families in the last few years. In his post-fight interview at UFC 264, 'The Notorious' made classless comments about Jolie and threatened to kill her and Poirier in their sleep.
If his comments about Poirier and his wife weren't bad enough, Cormier said that McGregor has crossed the line with his jabs at Khabib's father.
"After the fight with Dustin Poirier, a lot of people questioned whether or not Conor McGregor was reaching to try and get in the head of Dustin Poirier," Cormier said. "Reach back to a time where he had trash talk that could affect people. It didn't seem to work against Poirier. I feel like from him talking about Dustin's wife to now Khabib's father, he is just taking it way too far.
"When you're dealing with death and COVID and all these other things that we've dealt with over the last year and a half, that's all off limits. We talked about wives and families being off limits, but when you're talking about a man's everything — Khabib's dad was his everything — and you're talking about him being gone today due to something that has been so terrible for our entire world, you use that in a sense to get back?"
A Cry For Help
Defending McGregor's post-fight comments about Poirier and his wife, his coach John Kavanagh said that it was all in the heat of the moment. His comments about Khabib's father come weeks after his fight however, which Cormier believes makes matters worse.
"You know what's most disturbing? This wasn't done the day after the fight or the same night of the fight," Cormier said. "This was done weeks after the fight, so it feels like it was thought of and it was thought through for Conor to tweet something like that.
"Absolutely crossed the line. I think when stuff like that is being said, it's a cry for help. Conor has all the money in the world, he has all the fame, but now when you start to dig at that level, it's like somebody needs to get to McGregor and help him to start to kind of re-shift his mind and his focus and get him back to a better place. It's unfortunate."
Do you agree with Daniel Cormier's thoughts on Conor McGregor's recent comments and behaviour?
See also: