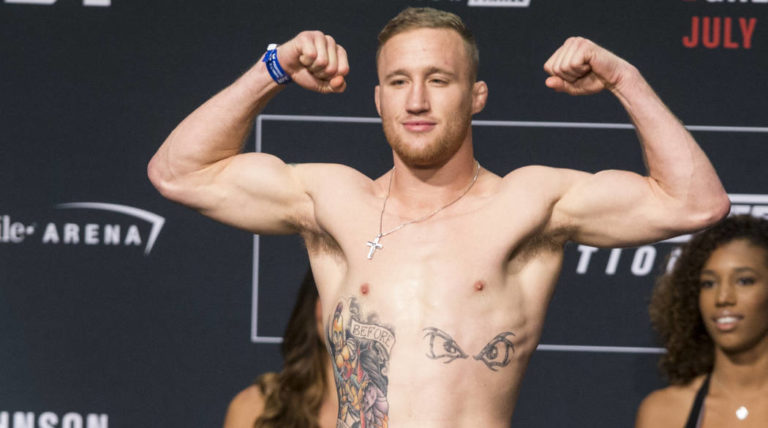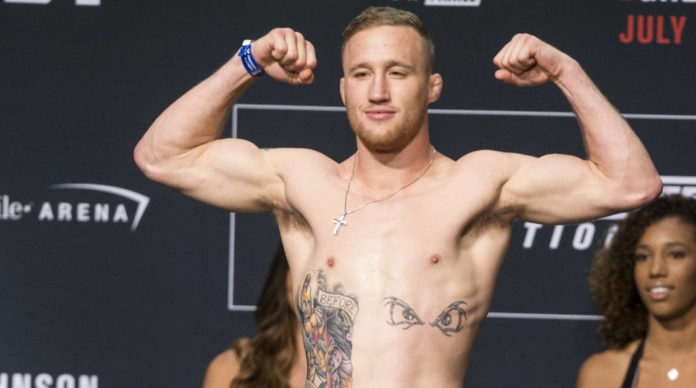 Justin Gaethje has warned that he will kick up a fuss if Conor McGregor leapfrogs him for a shot at UFC lightweight champion, Charles Oliveira.
Gaethje is coming off a hard-fought unanimous decision win against Michael Chandler at UFC 268, whereas McGregor hasn't won at lightweight since beating Eddie Alvarez for the title at UFC 205 in 2016. The Irishman is currently on a two-fight losing skid but is eyeing a title shot upon his return from injury next summer. Reigning champ Oliveira also said that he wouldn't say no to a fight against 'The Notorious'.
'I'll Throw Dollies Everywhere'
In case McGregor jumps the line and gets the title shot before deserving contenders however, Gaethje told TMZ (as transcribed by MMA Fighting) that he would 'burn it down' and 'throw dollies everywhere'.
"F***ing burn it down, that's what I'd do. [Conor] is so irrelevant," Gaethje said. "He has not won a fight since 2016 in the lightweight division. I'm ranked number one [in UFC]. I saw they updated the rankings, I'm number one now, that feels pretty good. My whole life I've been working toward this. That's what's next. If not, I f***ing burn it down. It doesn't matter. I'll show up and start throwing dollies everywhere. I don't know what the answer is."
'McGregor's Irrelevant'
Should he go on to fight Oliveira for the title and win, Gaethje said that he wouldn't allow McGregor to jump the line.
"I would absolutely not allow him to fight for the title if he did not win and go through the process," Gaethje said. "He's not going to s*** on everything. There's too many [guys], Beneil Dariush, Islam Makhachev, those are the guys that I would fight, not Conor McGregor. That's not how this works. He's becoming more and more irrelevant as time goes on. Pretty soon you won't even be asking me these questions. It's going to be a beautiful f***ing day."
Do you agree with Justin Gaethje's comments on Conor McGregor?
See also: