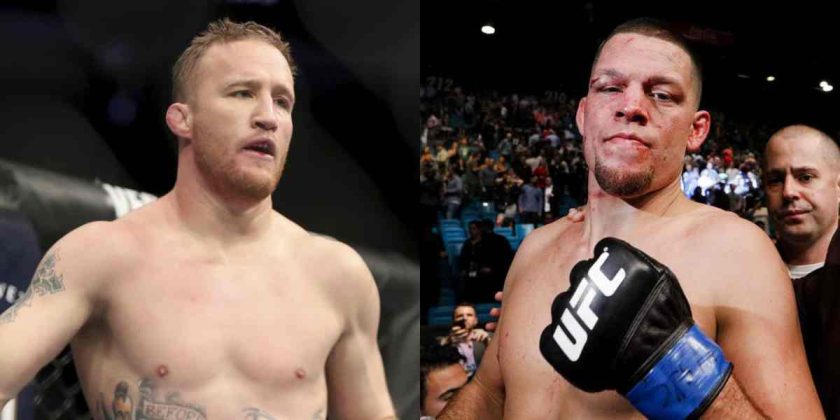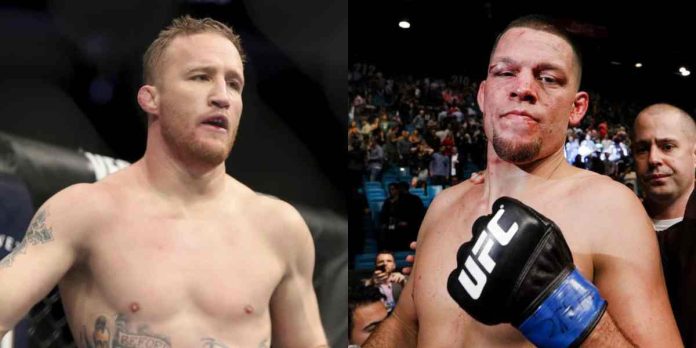 Justin Gaethje has fired back at Nate Diaz for joking about him being put to sleep by Khabib Nurmagomedov in their lightweight title fight at UFC 254.
Ahead of his title fight against Charles Oliveira at UFC 274 this weekend, Gaethje told Megan Olivi (as transcribed by BJPenn.com) that the Brazilian will have to walk through hell like Khabib did if he wants to keep his belt.
"[Charles Oliveira] is gonna have to walk through hell like Khabib did," Gaethje said. "He better be praying every day that he gets me to the ground."
Responding to Gaethje's comments through an Instagram story, Diaz said that he doesn't know what 'The Highlight' is talking about as he was choked out by Khabib with ease.
Gaethje fired back at Diaz calling him a 'jealous bitch'.
Most fans believe Oliveira has a significant edge in the grappling department, so he should take the fight to the mat as soon as possible and avoid a striking battle. 'Do Bronx' thinks those who say he should avoid a stand-up fight with Gaethje are underestimating him, and says he will prove his doubters wrong once again at UFC 274.
Gaethje is coming off a closely contested unanimous decision victory over Michael Chandler at UFC 267, while Oliveira most recently made his first successful title defence by submitting Dustin Poirier in the third round at UFC 269.
As for Diaz, he last fought against Leon Edwards in the first ever non title, non main event five round fight in UFC history at UFC 263, where he lost by unanimous decision. He has only one fight left on his current UFC contract and is itching to get back inside the Octagon.
Who do you think Nate Diaz should fight next?
See also: