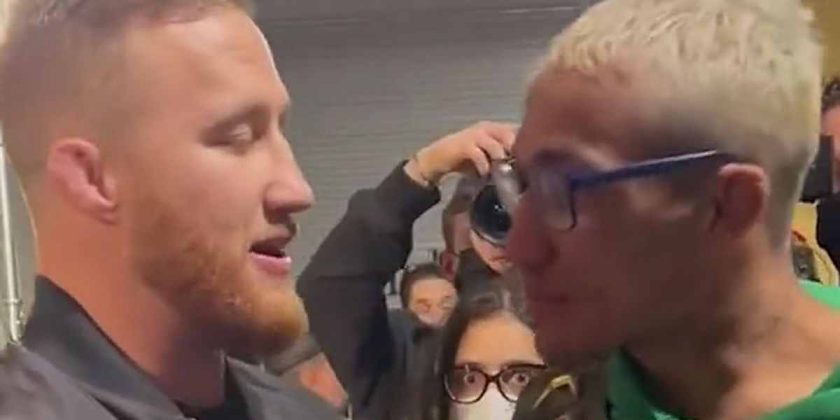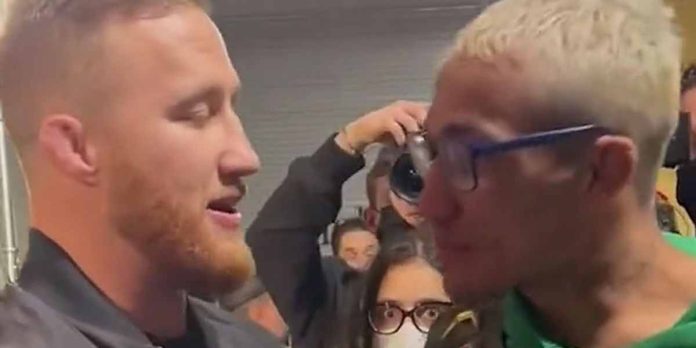 Contrary to what many in the MMA community believe, Charles Oliveira thinks he has the skills to overpower Justin Gaethje on the feet in their title fight at UFC 274.
Oliveira is coming off an impressive third round submission victory over Dustin Poirier at UFC 269, where he proved many doubters wrong, and he is confident of doing that again when he fights Gaethje on May 7th. The Brazilian is arguably the best submission grappler in the UFC, and many fans believe he should play to his strengths come fight night.
'Do Bronx' however, believes that he's equally good on the feet and isn't afraid to fight fire with fire against Gaethje.
Charles Oliveira On Proving His Doubters Wrong Yet Again
Speaking to Super Lutas, Oliveira said that he has the skills to stop Gaethje in a striking contest, and he will prove his doubters wrong yet again.
"Have you ever seen a truck moving forward without brakes? You guys saw it, right? You know how it works," Oliveira said. "It's Charles. You just walk forward. 'Oooh, but he has heavy hand.' Okay, I respect. I respect his heavy hand. He really knocked out many people. But in the last fight, he made a war against Michael Chandler and I knocked out Michael Chandler with my left hand. So who has the heaviest hand?
"I'm still not understanding. So that's not the truth. The truth will be just in time, about what will happen… On the 7th of May, I will prove it one more time. I'm not going to run and jump on his guard like everyone else is thinking. I'm not going to run and roll to get his legs. I'll exchange blows with this guy. I have firepower in my hands."
Who do you think will win the UFC lightweight title fight between Charles Oliveira and Justin Gaethje?
See also: