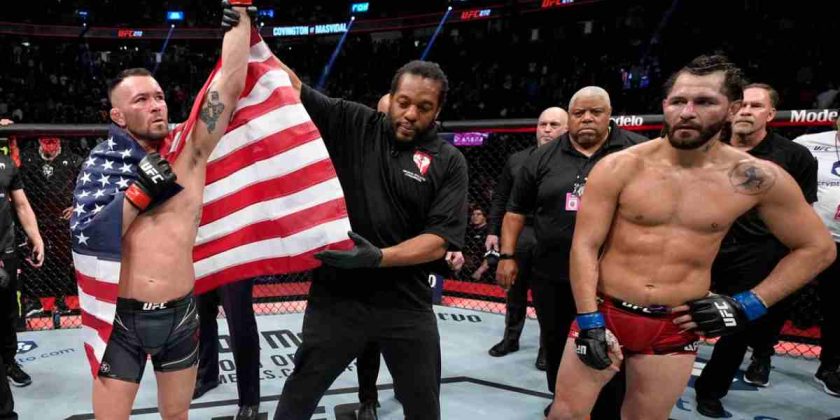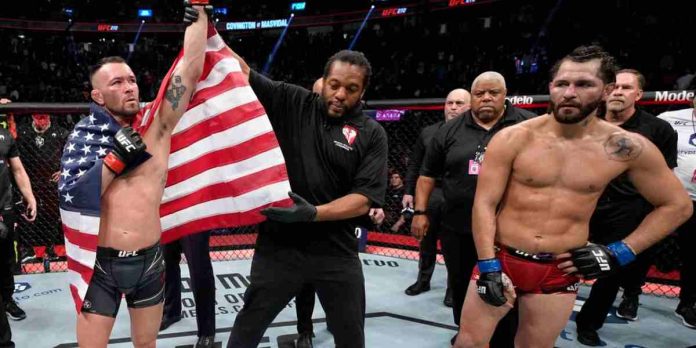 Jorge Masvidal has criticised referee Herb Dean for not taking immediate action against Colby Covington for his eye poke in the first round of their fight at UFC 272.
Masvidal faced his friend-turned-bitter rival Covington, in the main event at UFC 272, where the latter earned a dominant unanimous decision victory. In the opening round, 'Chaos' accidentally poked 'Gamebred' in the eye while landing a combination. The foul was missed by Dean, and Colby was able to move into a dominant position.
Jorge Masvidal On Herb Dean
To Dean's credit, he checked the tape and warned Covington at the end of the first round. During the UFC 272 post-fight press conference however (as transcribed by MMA News), Masvidal slammed the veteran referee for not pausing the fight to allow him time to recover from the poke.
"The eye poke was pretty bad, man. The only thing that's hurting on me right now is the f***in' eye poke," Masvidal said. "My eye's still throbbing right now. I've had a couple of mishaps with Herb Dean. I just don't get why he didn't fix the action. [Covington] threw a punch, missed, and then he immediately just jabbed me in the f***in' eyeball.
"I'm not gonna take nothin' away [from] him winning the fight because that was just one sequence; it would've been cool if he would've stopped it there and I would've got my f***in' breather and then we restart because he poked the s*** out of my eye, and it's still throbbin' right now. That's the only thing that's hurting on me."
This isn't the first time Dean's officiating has come under fire. He has been criticised by Dan Hardy and Dana White, among others, in the past over his controversial decisions.
What is your opinion on Herb Dean's officiating?
See also: